Recovery work in the criminal courts is moving at pace. The outstanding caseload in the Magistrates' Court is now almost 50,000 lower than at its peak last July. In the Crown Court between 4 January and 21 February, we listed an average of 309 trials each week – compared to 432 pre-COVID – with 241 of those being effective or 'cracked' (for example, where the defendant pleads guilty on the day of the trial or the prosecution offers no evidence), compared to 352 before the pandemic.
Despite this excellent progress, only made possible thanks to the ongoing dedication of all those who work in our courts, including the legal profession, our ability to list trials involving multiple defendants (so-called "multi-handers") remains the most challenging in the Crown Court, as outlined in our blog before Christmas. Physical capacity – a precious commodity – is limited by both safe distancing in the dock, the courtrooms and in court custody suites. The more people involved in a trial, the greater the resulting impact on this capacity and on our ability to make inroads into outstanding case levels.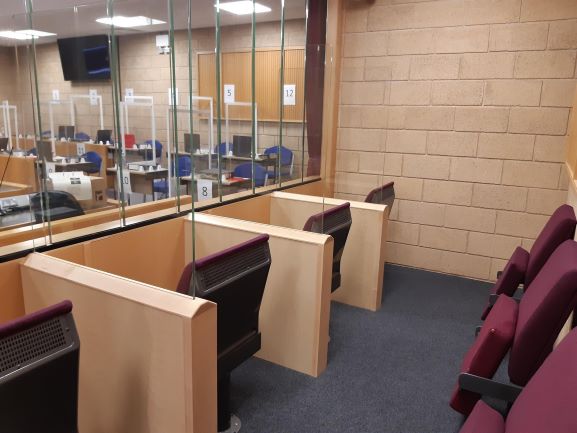 Multi-hander inroads
But we are making progress with multi-hander trials. Since the start of January, we have listed over 180 trials involving three or more defendants. Of these, 23 involved five or six defendants and four involved seven or more defendants. Trials involving larger numbers of defendants inevitably take longer – it is not unusual for one of these trials to last between 10 and 12 weeks. In many cases during COVID, to avoid delaying them, we have had to use multiple courtrooms for a single trial with video-links between them. This has a knock-on effect on the number of other trials a court building can run at the same time.
In early January, Liverpool Crown Court began an eight-hander trial with a time estimate of 10 weeks by using two courtrooms with four defendants in each courtroom. With the trial judge's agreement, one defendant, who was self-isolating in prison, was able to use a prison video-link to observe proceedings and avoid delaying the trial. Similarly, one member of counsel was able to participate utilising Cloud Video Platform. A murder trial involving five defendants is also taking place at Liverpool this month, with the defendants split across two courtrooms.
Due to social distancing constraints, at the beginning of November we had 83 jury-enabled courtrooms that could safely hold three or more defendants. Through a combination of works in courtrooms and custody suites, as of the 21 March, we have increased that pool to 110 courtrooms that can hold three or more defendants – an increase of 33%.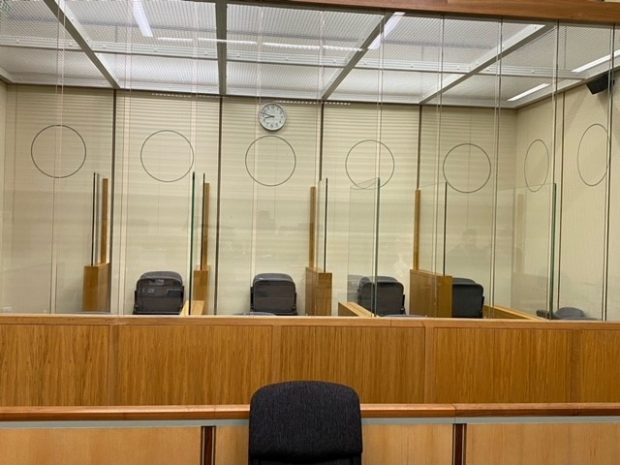 Modification works to docks and wells
To address the fundamental need to safely hold multi-hander trials, one of the quickest methods we've applied to create additional capacity for these trials is by making modifications to existing Crown Court buildings in the shape of bespoke screens or other adaptations installed into docks and wells of the courtroom.
Working with operational colleagues and based on an analysis of regional multi-hander trial caseloads, we have identified around 70 courtrooms where we believe modifications will have the most impact.
These works ramped up in the first three months of this year and is nearing completion. Twenty-one of these will be able to hold trials with between seven and 10 defendants, compared to none prior to starting the works. Vitally, this will give us more courtrooms that can hold larger trials safely as we wait for social distancing to end.
As of 21 March, we have completed 44 of these works, which are being carried out outside court hours to avoid disruption and are on track to be completed by the end of this month. While listing is a matter for the judiciary, and they have competing priorities to consider, the completion of these works will enable judges to further increase the number of large multi-hander trials being listed in a single courtroom and reduce the dependency on multiple courtrooms.
And while this work continues at pace over the coming weeks, our modifications are already delivering significant benefits. This is being demonstrated nationally – from Basildon to Bolton, and Swansea to Snaresbrook – by the number of multi-handed trials we've successfully held, or been ready to hold, across England and Wales as a result.
In Wales, following the installation of screens in the dock and well of Court 1 at Caernarfon Crown Court, the courtroom is now able to safely hear trials involving up to seven defendants. Meanwhile a dock extension at Newport Crown Court enabled us to start a 10-week, seven-hander trial in January in a single courtroom which concluded last week (15 March) with four defendants being found guilty of murder and three guilty of manslaughter. A second courtroom was used for jury deliberation and a third as an overspill for the press and public to view the trial. These types of success are being replicated in England – following the installation of screens in the dock and well of Court 1, Newcastle Crown Court will be able to safely hear trials involving up to 10 defendants from next week.
And alongside this work, more significant alterations will also be made at Manchester Crown Court (Crown Square) to create a 'super courtroom' to deal with large multi-hander cases, which can accommodate 12 defendants while maintaining social distancing measures. This is due to be completed in the summer.
Brighter future
When the works to docks and wells is complete at the end of this month, we expect to have installed modifications in around 70 courtrooms. This is another important step on our road to recovery in the Crown Court from the impact of COVID-19.