Hello, I'm Clare Beech. With five magistrates' and three Crown Courts in the region, no two days are the same in my role as Cluster Manager for HMCTS in the north west.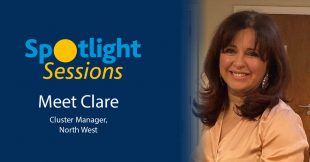 Working
 in the pandemic
My role is frontline delivery, so since the start of the pandemic my team of over 250 staff have been at the sharp end. We have kept justice going and ensured our courts comply with Public Health England (PHE) safety measures. 
For justice to continue – and where a judge decides it's in the interest of justice – sometimes people do need to come into a court. So we have a responsibility to make sure our courts are safe.  This has been challenging, but we acted remarkably quickly.  We've had to challenge ourselves to see what's possible. 
Our 'Nightingale' courts are just one example. We've opened courts at the Lowry, Hilton and Stockport Magistrates' and delivered something in two to three months that would normally take nine, 12, 18 months. The professionalism of my team, supported by judges, has really shone through. 
What I'm proud of
I am particularly proud of my team's role in arranging for the Manchester Hilton Hotel to be used during the Manchester Arena bombing trial. We set up a link to the Old Bailey in London so that the families of victims could watch the outcome with dignity and in a safe, socially-distanced environment. 
We're now working on a 'super courtroom' at Manchester Crown Court. It's taken vision, insight and teamwork: we work closely with our national team and judges. It's really important that we're able to accommodate these large multi-hander trials in a safe environment.  
In all this, I'm part of a team of women in the justice community. My Delivery Director is Gill Hague, and my counterpart in Civil, Family and Tribunal is Lorraine Edgar. Lorraine was part of the team that delivered the first lateral flow testing pilot in Manchester Civil Justice Centre – another important part of our measures to keep people safe. 
Why I do what I do
I've worked in court operations from a young age. HMCTS has invested in me and given me opportunities for training and progression.  
Even before the pandemic, a typical day is very varied in this role. You can map out what you think is going to happen and then events will overtake you. It's my job to make sure the courts are running smoothly through all of that and make sure everyone gets the best possible service. 
I feel I've been able to make a real difference to the way courts work and therefore to how we can make our justice system better for everyone. To dispose of justice – even in a pandemic – is fundamental to our democracy. That's why we do everything we can to help keep justice going.
You can read more sessions like Clare's by following the HMCTS Twitter account.