[English] - [Cymraeg]
As essential workers, courts and tribunals staff have worked throughout the pandemic.
Here, some of our people reflect on their experience of working on the frontline.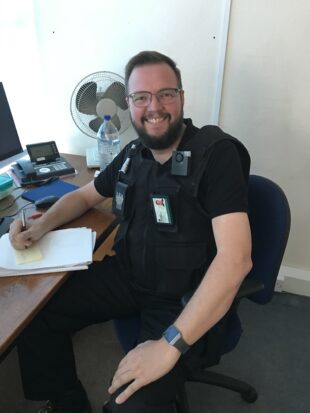 Nicholas Blackmore is a County Court Bailiff based in Hampshire. Although some of his work, such as evictions, stopped because of the pandemic Nicholas and other county court bailiffs immediately started doing other work to support the work of the courts.
"I always say that the bailiffs have been the Swiss army knife of the courts service during the pandemic. We've been needed for everything, from serving papers, taking files to judges and taking equipment to staff working from home.
"Friends were surprised when I said I was still working; they said to me they thought all courts were closed, but how could they close completely? So much of our work is about protecting vulnerable people – it's essential."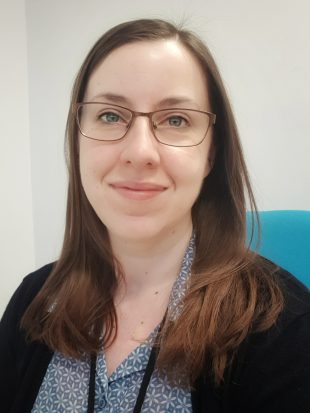 Leanna Conradson is a Video Hearings Team Leader, based in the Cardiff Employment Tribunal. Although Leanna has worked in the Employment Tribunal for several years, her current role was created as a direct response to the COVID situation
"All the listed hearings, at first, were turned into case management hearings that were heard remotely. The judges wanted to make sure that we made progress and so, week by week, we were converting hearings. We had no idea how long restrictions would last, so we couldn't plan months in advance.
"We then started to hold full hearings remotely, first with Skype and then with Cloud Video Platform (CVP). At first it could sometimes be hard convincing parties to take part remotely, but people have very quickly adapted to it.
"The thing that's struck me the most is how committed our professional users, our staff and our judges have been to make a success of things. Everyone has been really supportive and understanding.
"I've seen so much innovation since last March; people on all levels have really been empowered to come up with ideas about how we could work differently. A week later, you'd see that idea put into practice. Across the Civil Service there's been amazing work during the pandemic and that's been wonderful to see and it's made me proud to be part of it."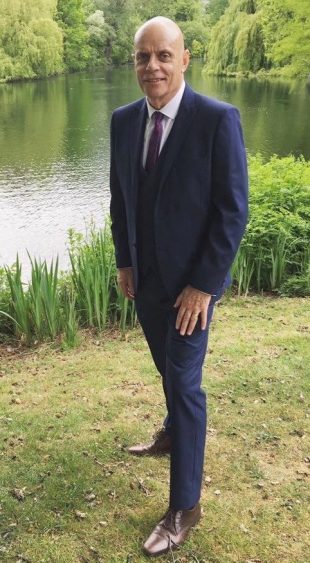 Phil Smith is an Usher and Witness Liaison Officer, based in magistrates' courts in West Sussex.
"I know if I'd asked my line manager if I could avoid face-to-face work I'd have been supported to do so. I could also have just called it a day, chosen to retire and pack up, but I didn't want to do that. I enjoy my work as an usher, I enjoy meeting and helping court users, especially in my role as witness liaison officer.
"We're now hearing cases using Cloud Video Platform (CVP) and I've been involved in creating a national usher training course. This looks at the training from the viewpoint of an end user.
"I'm pleased I've been able to contribute in some way to keeping the justice system running. At the end of all this, we can all give each other a little nod and all know we've all done our bit and done our duty; I'm no different to anyone else here."
Jason Haines is a Small Claims Mediator, based in Preston.
"Our work has always been over the telephone and that has continued. But many of us have had to adapt to working flexibly throughout the pandemic - with most of us swapping court-based locations to home working.
"The main challenge we have faced as mediators is uncertainty. Parties coming to mediation may have been furloughed, made redundant or had their business interrupted through lockdown.
"This has impacted on their confidence in where they will be in the coming months and they are therefore nervous about settling matters at mediation."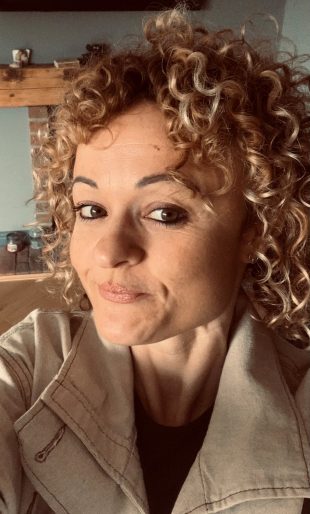 Sarah Appleby is a Court Associate, based in Kent. In her role, she sits with a District Judge, running a court by taking pleas, recording results and working with the various parties in a case.
"Before COVID we'd use video facilities to link to defendants in custody, or to vulnerable victims or witnesses but now we're using video in many more ways.
"Now, prosecutors, defence solicitors and other parties can join remotely too. It's definitely made sense to offer hearings in this way.
"While I've seen my work change as a result of the pandemic, I think the real unsung heroes in courts are the people who've been making the virtual hearings happen, people like our ushers. None of what we've achieved would be possible without the amazing people we have working in courts – they've been incredible and having to work in completely new ways."
HMCTS has also been supporting staff to work from home wherever possible.
Udaysinh Modhavadiya is a Mediation Support Officer, based in Leicestershire. He's been based at home since the pandemic began.
"There are some challenges. In the office if there's an issue you need to deal with, you can just go over and talk to a colleague, whereas now you have to send them a message or arrange a call. But overall I've found working from home positive, and I'm grateful to HMCTS for supporting me to do so."
Adam Rosenberg is a Query Management and Case Administrator (QMCA), based at Stoke Courts and Tribunals Service Centre (CTSC). He handles calls and emails from the public and professional court users about Social Security and Child Support (SSCS) tribunals.
"I started a new job for a new organisation in the middle of the pandemic. I've now been here seven or eight months and I've been 100 per cent working from home, other than three short trips to the office.
"I know some people find the switch to homeworking hard, but I've never known this job any other way. Working this way suits me really well and I'm soon starting a new role, training people to work as QMCAs. I really feel I've thrived.
"It can sometimes be hard to settle into a new role, or in a new place, but I've got to know people through my work with the Diversity, Equality and Inclusion Group and my interest in LGBT+ issues."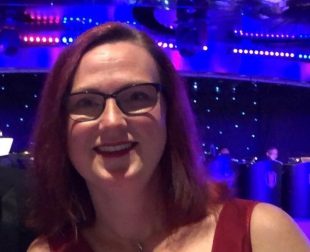 Sharon Lewis, is an Usher and Witness Liaison Officer working on family cases in Suffolk. She has been shielding since last March, but has continued working thanks to new technology being introduced to courts and tribunals.
"My last day where I was physically in work was 23 March 2020. I spent that day putting together my stuff not knowing what I would do and how things would pan out as at that point all of my equipment was static and my role very much based within the court building.
"Had I been able to do my work from home at that point, I would have. But as I was in the shielding group, I was put on special leave, and waited for the right equipment and processes to be put in place so I could work remotely.
"Once we started holding remote hearings by Skype and Cloud Video Platform (CVP) I was able to start clerking from home on a laptop and that was great. However, there were some things I couldn't do from home.
"As I still had time available I suggested to my manager that I could take on some of the administrative work too. I wanted to do whatever I could, whatever needed doing, to support my colleagues, the court and the justice system. Now that the Ipswich County Court building is deemed COVID-secure we are starting to have a mixture of remote and in person hearings.
"We've achieved so much in such a short space of time; I only started at HMCTS six years ago, but even then everything was paper-based. And now, whole hearings can take place with everyone in separate locations. Often, that's not ideal, but having it as an option is a positive thing.
"The way we've responded to the pandemic has shown that HMCTS and the justice system is able to be flexible and respond to changes in the world."

[English] - [Cymraeg]
Myfyrdodau am weithio yn y llysoedd a'r tribiwnlysoedd yn ystod y pandemig COVID-19
Fel gweithwyr hanfodol, mae staff y llysoedd a'r tribiwnlysoedd wedi gweithio drwy gydol y pandemig.
Yma, mae rhai o'n pobl yn myfyrio ar eu profiadau yn gweithio ar y rheng flaen.
Beili Llys Sirol yn Hampshire yw Nicholas Blackmore. Er bod rhywfaint o'i waith, fel troi allan, wedi dod i stop oherwydd y pandemig, mi wnaeth Nicholas a'r holl feilïaid llys sirol ddechrau gwneud gwaith arall ar unwaith, i gefnogi gwaith y llysoedd.
"Rwyf wedi dweud sawl gwaith mai beilïaid sydd wedi bod yr adnodd mwyaf amlbwrpas ar gyfer y gwasanaeth llysoedd yn ystod y pandemig. Mae galw amdanom wedi bod ar gyfer popeth - o gyflwyno dogfennau, mynd â ffeiliau i farnwyr a chludo offer i staff sy'n gweithio gartref.
"Roedd fy ffrindiau wedi synnu pan dywedais i fy mod i dal i weithio: dywedon nhw eu bod yn meddwl bod yr holl lysoedd ar gau, ond sut gallan nhw fod ar gau yn gyfan gwbl? Mae cymaint o'n gwaith yn ymwneud â diogelu pobl fregus – mae'n hanfodol."
Arweinydd Tîm Gwrandawiadau Fideo yw Leanna Conradson, sydd wedi'i lleoli yn Nhribiwnlys Cyflogaeth Caerdydd. Er bod Leanna wedi gweithio yn y Tribiwnlys Cyflogaeth am nifer o flynyddoedd, crëwyd ei rôl bresennol mewn ymateb i'r sefyllfa COVID.
"Ar y dechrau cafodd yr holl achosion oedd wedi'u rhestru ei droi'n gwrandawiadau rheoli achos, gyda phob un yn cael ei wrando o bell. Roedd y barnwyr eisiau sicrhau ein bod yn gwneud cynnydd, ac felly, wythnos fesul wythnos, mi oedden ni'n trosi gwrandawiadau o rai wyneb i wyneb i rai o bell. Nid oedd gennym syniad tan pryd y byddai'r cyfyngiadau yn para, felly nid oedd modd inni gynllunio misoedd ymlaen llaw.
"Wedyn, dechreuon ni gynnal gwrandawiadau llawn o bell, ar Skype i ddechrau ac wedyn gyda Phlatfform Fideo'r Cwmwl (CVP). Roedd yn gallu bod yn anodd argyhoeddi partïon i gymryd rhan o bell ar y dechrau, ond mae pobl wedi addasu i'r drefn newydd yn gyflym.
"Y peth sydd wedi taro fi mwyaf yw pa mor ymroddedig y mae'r defnyddwyr proffesiynol, ein staff a'r barnwyr wedi bod i sicrhau ein bod yn llwyddo. Mae pawb wedi bod yn gefnogol ac yn ystyriol iawn.
"Rwyf wedi gweld cymaint o arloesi ers mis Mawrth y llynedd; mae pobl ar bob lefel wedi'u grymuso i feddwl am syniadau am sut i weithio'n wahanol. Wythnos yn ddiweddarach, byddwch yn gweld y syniad hwnnw yn cael ei roi ar waith. Mae gwaith anhygoel wedi cael ei gyflawni ar draws y Gwasanaeth Sifil yn ystod y pandemig ac mae wedi bod yn wych i'w weld ac mae'n gwneud i mi deimlo'n falch fy mod i'n rhan ohono."
Tywysydd a Swyddog Cyswllt i Dystion yw Phil Smith, sydd wedi'i leoli yn y llysoedd ynadon yng Ngorllewin Sussex.
"Rwy'n gwybod petai fi wedi gofyn i fy rheolwr llinell os byddwn i'n gallu osgoi gwaith wyneb yn wyneb, byddwn i wedi cael y gefnogaeth i wneud hynny. Byddwn i wedi gallu rhoi'r gorau i'r gwaith hefyd, a dewis ymddeol, ond nid oeddwn eisiau gwneud hynny. Rwy'n mwynhau fy ngwaith fel tywysydd, ac yn mwynhau cyfarfod a helpu defnyddwyr y llysoedd, yn enwedig yn fy rôl fel Swyddog Cyswllt i Dystion.
"Rydym bellach yn gwrando achosion drwy Blatfform Fideo'r Cwmwl (CVP) ac rwyf wedi chwarae rhan mewn creu cwrs hyfforddiant cenedlaethol ar gyfer tywyswyr. Mae hyn yn edrych ar yr hyfforddiant o safbwynt defnyddiwr gwasanaeth.
"Rwy'n hapus fy mod i wedi gallu cyfrannu at sicrhau bod y system gyfiawnder yn parhau i weithredu. Ar ddiwedd hyn i gyd, gallwn edrych ar ein gilydd a gwybod ein bod oll wedi chwarae ein rhan a chyflawni ein dyletswydd; dydw i ddim yn wahanol i neb arall yma."
Cyfryngwr Hawliadau Bychain yw Jason Haines, sydd wedi'i leoli yn Preston, Sir Gaerhirfyn.
"Mae ein gwaith wastad wedi bod dros y ffôn ac mae hynny wedi parhau. Fodd bynnag, mae llawer ohonom wedi gorfod addasu i weithio'n hyblyg yn ystod y pandemig – gyda'r mwyafrif ohonom yn gadael ein lleoliadau gwaith yn y llysoedd ac yn gweithio gartref.
"Y prif her rydym wedi'i wynebu fel cyfryngwyr yw ansicrwydd. Gall partïon sy'n dod i apwyntiad cyfryngu fod ar ffyrlo, wedi colli eu swydd, neu efallai bod eu busnes wedi'i effeithio gan y cyfyngiadau symud.
"Mae hyn wedi effeithio ar eu hyder a beth fydd eu sefyllfa yn y misoedd i ddod ac felly maen nhw'n nerfus ynghylch setlo materion trwy gyfryngu."
Cydymaith Llys sydd wedi'i leoli yng Nghaint yw Sarah Appleby. Yn ei rôl, mae hi'n eistedd gyda Barnwr Rhanbarth, gan gynnal y llys trwy dderbyn pledion, cofnodi canlyniadau a gweithio gyda'r partïon amrywiol mewn achos.
"Cyn COVID roedden ni'n defnyddio cyfleusterau fideo i gysylltu â diffynyddion yn y ddalfa, neu dystion neu ddioddefwyr bregus, ond erbyn hyn rydyn ni'n defnyddio technoleg fideo mewn llawer mwy o ffyrdd gwahanol.
"Nawr, gall erlynwyr, cyfreithwyr yr amddiffyniad a phartïon eraill ymuno o bell hefyd. Mae'n bendant wedi gwneud synnwyr i gynnig gwrandawiadau yn y ffordd hon.
"Er mod i wedi gweld fy ngwaith yn newid yn sgil y pandemig, rwy'n meddwl mai'r arwyr go iawn, sydd heb gael clod, yw'r bobl sydd wedi bod yn sicrhau bod y gwrandawiadau rhithiol yn gallu digwydd, pobl fel ein tywyswyr. Ni fyddai unrhyw ran o'r hyn rydym wedi'i gyflawni wedi bod yn bosib heb y bobl anhygoel sydd gennym yn gweithio yn y llysoedd – maen nhw wedi bod yn anhygoel ac roedd rhaid iddynt weithio mewn ffyrdd hollol newydd."
Mae GLlTEM hefyd wedi bod yn cefnogi staff i weithio o adref lle bynnag y bo modd.
Swyddog Cefnogi Cyfryngu, sydd wedi'i leoli yn Swydd Caerlŷr yw Udaysinh Modhavadiy. Mae wedi bod yn gweithio gartref ers dechrau'r pandemig
"Mae rhywfaint o heriau. Mewn swyddfa, os oes mater mae arnoch angen delio ag ef, gallwch fynd draw i gael sgwrs â chydweithiwr, ond nawr mae'n rhaid ichi anfon neges atynt neu drefnu galwad ffôn. Fodd bynnag, mae gweithio gartref wedi bod yn gadarnhaol yn gyffredinol, ac rwy'n ddiolchgar i GLlTEM am fy nghefnogi i wneud hynny."
Gweinyddwr Achosion a Rheoli Ymholiadau (QMCA), yw Adam Rosenberg, sydd wedi'i leoli yng Nghanolfan Gwasanaethau'r Llysoedd a'r Tribiwnlysoedd (CTSC) Stoke yn Swydd Stafford. Mae'n ymdrin â galwadau a negeseuon e-bost gan ddefnyddwyr cyhoeddus a defnyddwyr proffesiynol y llysoedd sy'n ymwneud ag achosion tribiwnlys Nawdd Cymdeithasol a Chynnal Plant (SSCS).
"Dechreuais mewn swydd newydd ar gyfer sefydliad newydd yng nghanol y pandemig. Rwyf wedi bod yma ers tua 7-8 mis bellach, ac wedi bod yn gweithio gartref drwy gydol y cyfnod hwn, oni bai am dri ymweliad byr i'r swyddfa.
"Rwy'n gwybod bod rhai wedi'i chael yn anodd yn symud i weithio gartref, ond nid wyf erioed wedi cyflawni'r rôl hon mewn unrhyw ffordd arall. Mae gweithio fel hyn yn gyfleus i mi, a byddaf yn cychwyn mewn rôl newydd yn fuan, yn hyfforddi pobl i weithio fel QMCAs. Felly rwyf wir yn teimlo mod i wedi ffynnu.
"Gall fod yn anodd setlo mewn rôl newydd, ond rwyf wedi dod i nabod pobl trwy fy ngwaith gyda'r Grŵp Amrywiaeth, Cydraddoldeb a Chynhwysiant a fy niddordeb mewn materion LGBT+."
Tywysydd a Swyddog Cyswllt Tystion yw Sharon Lewis, sy'n gweithio ar achosion teulu yn Suffolk. Mae wedi bod yn gwarchod ers mis Mawrth y llynedd, ond mae wedi parhau i weithio, diolch i dechnoleg newydd sy'n cael chyflwyno yn y llysoedd a'r tribiwnlysoedd.
"Y tro diwethaf roeddwn i'n bresennol yn y gweithle oedd y 23ain o Fawrth 2020. Treuliais y diwrnod hwnnw yn casglu fy mhethau, heb unrhyw syniad am beth fyddwn i'n ei wneud a sut byddai pethau'n datblygu oherwydd bryd hynny roedd fy holl offer yn offer sefydlog ac roedd fy rôl wedi'i leoli'n gyfan gwbl yn yr adeilad llys.
"Petai fi wedi gallu gweithio gartref ar y pwynt hwnnw, byddwn i wedi gwneud hynny; ond, oherwydd fy mod i yn y grwp gwarchod, cefais fy rhoi ar gyfnod absenoldeb arbennig. Roedd rhaid i mi aros i'r offer a'r prosesau cywir gael eu rhoi mewn lle fel y gallwn weithio bell.
"Unwaith dechreuon ni gynnal gwrandawiadau o bell drwy Skype a Platfform Fideo'r Cwmwl (CVP) roeddwn i'n gallu dechrau clercio o gartref ar liniadur ac roedd hynny'n grêt. Fodd bynnag, roedd yna dal ambell beth nid oedd modd i mi wneud gartref.
"Oherwydd bod gen i amser rhydd, awgrymais i fy rheolwr mod i'n gwneud rhywfaint o waith gweinyddol hefyd. Roeddwn i eisiau gwneud beth bynnag y gallwn, beth bynnag oedd angen cael ei wneud, i gefnogi fy nghydweithwyr, y llys a'r system gyfiawnder. Mae adeilad Llys Sirol Ipswich yn ddiogel rhag COVID bellach, felly rydym yn dechrau cynnal cymysgedd o wrandawiadau o bell a gwrandawiadau wyneb yn wyneb.
"Rydym wedi cyflawni cymaint o fewn cyfnod mor fyr; dechreuais weithio i GLlTEM dim ond chwe blynedd yn ôl, ond hyd yn oed bryd hynny roedd popeth ar bapur. Bellach, mae modd cynnal gwrandawiad yn gyfan gwbl o bell, gyda phartïon mewn lleoliadau ar wahân. Yn aml iawn, nid yw hynny'n ddelfrydol, ond mae cael yr opsiwn yn rhywbeth cadarnhaol.
"Mae'r ffordd rydym wedi esbonio i'r pandemig wedi dangos bod GLlTEM a'r system gyfiawnder yn gallu bod yn hyblyg ac yn gallu ymateb i newidiadau yn y byd."