[English] - [Cymraeg]
Sobriety tags, or Alcohol Abstinence and Monitoring Requirement (AAMR) as they are formally known, generated a lot of media interest when their introduction came into law in England at the end of March. Many positive reports focused on the expected impact on the reduction in alcohol-related crime, which is reported to fuel around 39% of criminal activity.
Following legislative change, we worked with partners including the lead department on the policy, HM Prison & Probation Service (HMPPS), as well as judges, legal advisers and our own court staff. Together, we ensured the criminal courts had processes in place to help the judiciary meet the new requirements.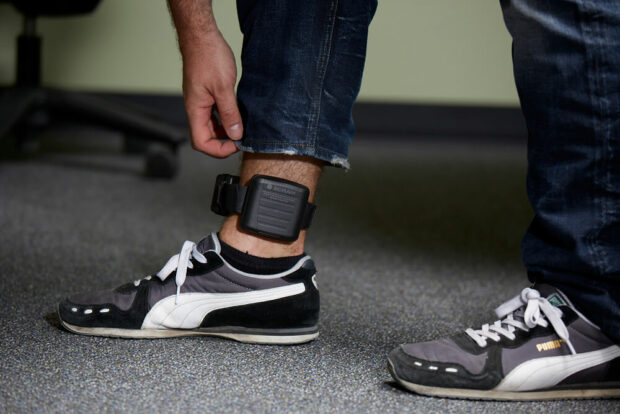 Preparing for national rollout
Support for this new sobriety measure was generally very high. A compliance rate of over 97% in trials involving over 1,500 offenders successfully demonstrated the potential benefits.
Before this new sentencing power could be made available nationally, we needed to give the judiciary and legal advisers the necessary sentencing knowledge and adapt court recording processes to implement the tags.
Our biggest challenge was dealing with the restrictions caused by the coronavirus (COVID-19) pandemic. We adapted to provide all judicial and staff training and information electronically, without any face-to-face interaction. We used a range of digital channels, from videos and animations to webinars attracting over 1,500 attendees across 20 events. This training made sure people in our courts were well prepared.
About the sobriety tags
First introduced in Wales in October 2020, the national rollout came into effect in England on 31 March. This followed two successful pilots in London and in North Yorkshire, Lincolnshire and Humberside.
A sobriety tag can be imposed on adult offenders as a requirement of their community order or suspended sentence order for an alcohol-related offence, or an associated offence that's alcohol related. The rationale is that if offenders are stopped from drinking, they stop committing crimes.
No offence is excluded from AAMR if it's alcohol related. But a sobriety tag can't be imposed where the person is alcohol dependent or alongside an alcohol treatment requirement.
During the pilots, sobriety tags were most frequently imposed for violent offences. In the northern England pilot, 31% were domestic violence offences. Other offences included, but were not limited to, drink driving and theft.
How the tag works
A sobriety tag bans the offender from drinking alcohol for up to 120 days and their compliance is electronically monitored. An ankle tag takes a sample of sweat from beneath it every 30 minutes and uploads the data to a base station, usually every 24 hours, at an agreed time. The Electronic Monitoring Service (EMS) fits the tags in the same way as those on curfew or location monitoring orders.
Probation staff are responsible for monitoring compliance and for enforcement. They use a portal to access the information sent from base stations and deal with alcohol alerts.
In the event of a breach, the probation service decide whether a case should be brought back to the court, with a full and detailed report of all alleged breaches. These would include for example, if someone had consumed an alcoholic drink, but also if they had washed their hands in a sanitiser containing alcohol, which of course wouldn't constitute a confirmed breach. The detail and the clarity of the probation report helps the court to decide on further sentencing.
Various attempts to avoid a breach have not succeeded. People have tried to obstruct the tag by inserting a foreign object like tin foil between it and the skin. And a more extreme attempt involved encasing the tag in chicken skin!
Feedback
Nigel McLean, a District Judge in the Magistrates' court observed:
"From the offenders' perspective, it provides them with an opportunity to reflect on just how much of an impact alcohol has had on their lives and on their offending."
Becky Bailey, from the Probation Service, added:
"And there are also wider social benefits. People told us about improved relationships, improved ability to sustain employment, and improved finances because they weren't spending the money on alcohol.
"So, the benefit of this intervention to victims is that they're given assurance that the offenders are being continuously monitored and their alcohol use is being addressed. And we saw this was really powerful, particularly in cases of domestic abuse, where the offender was potentially still living with the victim.
"In these cases, we were also able to share information with other agencies such as children's services, substance misuse providers or the police, which made a really effective way of multiagency management."
And a final note of approval from an offender who was subject of an AAMR:
"I'd just say that I've been quite surprised how it has worked really because I didn't think I would actually be like this today. I didn't think I'd ever change, and I have, and I think completely different to what I did six months ago.
"You know what I mean? It's mad really."

[English] - [Cymraeg]
Paratoi'r llysoedd ar gyfer tagiau sobrwydd
Daniel Hodges, Dirprwy Reolwr Gwasanaeth
Mi wnaeth tagiau sobrwydd, neu'r Gofyniad Monitro ac Ymwrthod ag Alcohol (AAMR) fel y'u gelwir yn ffurfiol, ennyn llawer o ddiddordeb gan y cyfryngau pan gafodd eu cyflwyno yn gyfreithiol yn Lloegr ar ddiwedd mis Mawrth. Mi oedd llawer o adroddiadau cadarnhaol yn canolbwyntio ar yr effaith a ragwelir ar leihau troseddau sy'n gysylltiedig ag alcohol gan fod alcohol, yn ôl adroddiadau, yn sbarduno oddeutu 39% o weithgaredd troseddol.
Yn dilyn y newid deddfwriaethol, bu inni weithio gyda phartneriaid yn cynnwys yr adran oedd yn arwain ar y polisi, Gwasanaeth Carchardai a Phrawf EM (HMPPS), ynghyd â barnwyr, cynghorwyr cyfreithiol a staff ein llysoedd. Gyda'n gilydd, bu inni sicrhau bod gan y llysoedd troseddol brosesau mewn lle i helpu'r farnwriaeth fodloni'r gofynion newydd.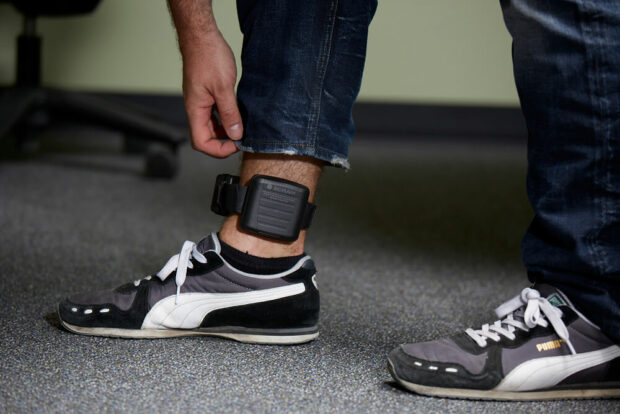 Paratoi ar gyfer cyflwyno'r tagiau yn genedlaethol
Roedd y gefnogaeth ar gyfer y mesur sobrwydd newydd hwn yn uchel iawn yn gyffredinol. Roedd cyfradd cydymffurfio o 97% mewn treialon gyda dros 1,500 o droseddwyr wedi llwyddo i ddangos y buddion posibl.
Cyn i'r pŵer dedfrydu newydd hwn gael ei gyflwyno'n genedlaethol, roedd rhaid inni roi'r wybodaeth ddedfrydu angenrheidiol i'r farnwriaeth a chynghorwyr cyfreithiol ac addasu prosesau cofnodi'r llysoedd i roi'r tagiau ar waith.
Ein her fwyaf oedd delio â'r cyfyngiadau yn sgil y pandemig coronafeirws (COVID-19). Bu inni addasu, gan ddarparu'r holl hyfforddiant a gwybodaeth i'r farnwriaeth a staff yn electronig, heb unrhyw ryngweithio wyneb yn wyneb. Bu inni ddefnyddio ystod o sianeli digidol, o fideos ac animeiddiadau i weminarau, gan ddenu dros 1,500 o fynychwyr ar draws 20 o ddigwyddiad. Roedd yr hyfforddiant hwn yn sicrhau bod y bobl yn ein llysoedd wedi'u paratoi'n dda.
Gwybodaeth am y tagiau sobrwydd
Cyflwynwyd y tagiau yn gyntaf yng Nghymru ym mis Hydref 2020, a chawsant eu cyflwyno'n genedlaethol yn Lloegr ar yr 31ain o Fawrth 2021. Roedd hyn wedi dilyn dau gynllun peilot llwyddiannus yn Llundain ac yng Ngogledd Swydd Efrog, Swydd Lincoln a Humberside.
Gellir gorfodi troseddwyr sy'n oedolion i wisgo tag sobrwydd fel gofyniad o'u gorchymyn cymunedol neu orchymyn dedfryd ohiriedig ar gyfer trosedd sy'n ymwneud ag alcohol, neu drosedd cysylltiedig sy'n ymwneud ag alcohol. Y sail resymegol yw, os bydd troseddwyr yn cael eu hatal rhag yfed byddant yn rhoi'r gorau i gyflawni troseddau.
Nid yw unrhyw drosedd yn cael ei eithrio o AAMR os yw'n ymwneud ag alcohol. Fodd bynnag, ni ellir gorfodi gwisgo tag sobrwydd os yw'r unigolyn yn ddibynnol ar alcohol neu os yw gofyniad triniaeth alcohol ar waith.
Yn ystod y cynlluniau peilot, roedd tagiau sobrwydd yn cael eu gorfodi gan amlaf ar gyfer troseddau treisgar. Yn y cynllun peilot yng Ngogledd Lloegr, roedd 31% o'r troseddau yn droseddau trais domestig. Roedd troseddau eraill yn cynnwys, ond nid wedi'u cyfyngu i, yfed a gyrru a dwyn.
Sut mae'r tagiau yn gweithio
Mae tag sobrwydd yn gwahardd y troseddwyr rhag yfed alcohol am hyd at 120 diwrnod ac mae eu cydymffurfiad yn cael ei fonitro'n electronig. Mae tag ffêr yn cymryd sampl chwys o'r croen bob 30 munud ac mae'n llwytho'r data i beiriant sydd wedi'i osod yng nghartref y troseddwr, bob 24 awr fel arfer, ar adeg y cytunwyd arno. Mae'r Gwasanaeth Monitro Electronig (EMS) yn gosod y tagiau yn yr un ffordd â thagiau troseddwyr sydd ar gyrffyw neu dan orchymyn monitro lleoliad.
Mae staff y gwasanaeth prawf yn gyfrifol am fonitro cydymffurfiad ac am orfodi. Maen nhw'n defnyddio porth i gael mynediad at yr wybodaeth a anfonir o'r peiriannau ac yn ymdrin ag unrhyw hysbysiadau bod alcohol wedi'i ganfod.
Os bydd tor-amod yn digwydd, bydd y gwasanaeth prawf yn penderfynu p'un a dylai achos gael ei ddwyn yn ôl i'r llys, gydag adroddiad llawn a manwl am yr holl dor-amodau honedig. Byddai'r rhain yn cynnwys, er enghraifft, os yw unigolyn wedi yfed diod gydag alcohol, ond hefyd os oeddynt wedi glanhau eu dwylo gyda hylif diheintio oedd yn cynnwys alcohol, ac ni fyddai'r ail beth wrth gwrs yn cyfrif fel tor-amod. Mae manylder ac eglurder yr adroddiad prawf yn helpu'r llys benderfynu ar ddedfrydu pellach.
Mae amryw ymgais i geisio osgoi tor-amod wedi methu. Mae pobl wedi ceisio atal y tag rhag gweithio'n iawn trwy roi eitem fel ffoil rhwng y tag a'r croen ac roedd un ymgais eithafol lle oedd troseddwr wedi rhoi croen cyw iâr o amgylch y tag!
Adborth
Meddai Nigel McLean, Barnwr Rhanbarth yn y Llys Ynadon:
"O safbwynt y troseddwyr, mae'n rhoi cyfle iddynt fyfyrio ar yr effaith y mae alcohol wedi'i gael ar eu bywydau ac ar eu troseddu."
Ychwanegodd Becky Bailey, o'r Gwasanaeth Prawf:
"Mae yna fuddion cymdeithasol pellach hefyd. Mi wnaeth bobl ddweud wrthym fod eu perthnasau wedi gwella, bod gwelliant yn eu gallu i aros mewn cyflogaeth a gwelliant yn eu sefyllfa ariannol oherwydd nad oeddynt yn gwario arian ar alcohol.
"Felly, mae'r ymyrraeth hon yn fuddiol i ddioddefwyr gan eu bod yn cael sicrwydd bod y troseddwyr yn cael eu monitro'n barhaus ac ein bod yn mynd i'r afael â'u defnydd o alcohol. Roedd hyn y bwerus iawn, yn enwedig mewn achosion o gam-drin domestig, lle'r oedd y troseddwr o bosib yn parhau i fyw gyda'r dioddefwr.
"Yn yr achosion hyn, roeddem hefyd yn gallu rhannu gwybodaeth gydag asiantaethau eraill, fel gwasanaethau plant, darparwyr cymorth camddefnyddio sylweddau neu'r heddlu, ac  roedd yn ddull rheoli amlasiantaethol effeithiol iawn."
Ac yn olaf, dyma nodyn o gymeradwyaeth gan droseddwr oedd yn destun AAMR:
"Rydw i wedi synnu pa mor dda mae wedi gweithio a dweud y gwir, oherwydd nid oeddwn i'n meddwl y byddwn i fel hyn heddiw. Wnes i feddwl byddwn i byth yn newid, ac rwyf wedi newid, ac yn hollol wahanol i sut oeddwn i chwe mis yn ôl.
Mae'n wallgof a deud y gwir."