Now that we're able to hug our loved ones and go to restaurants and pubs, I am tentatively welcoming the prospect of summer. As we slowly emerge from the restrictions of past months, I can't help but reflect on the work that's kept justice functioning.
On my visits to courts across the country, I've been struck by how hard everyone continues to work to ensure victims, witnesses and defendants can have their cases heard and to ensure applicants in civil and family matters can have their matters resolved. I want to thank them for their dedication.
How does easing COVID-19 restrictions affect court buildings?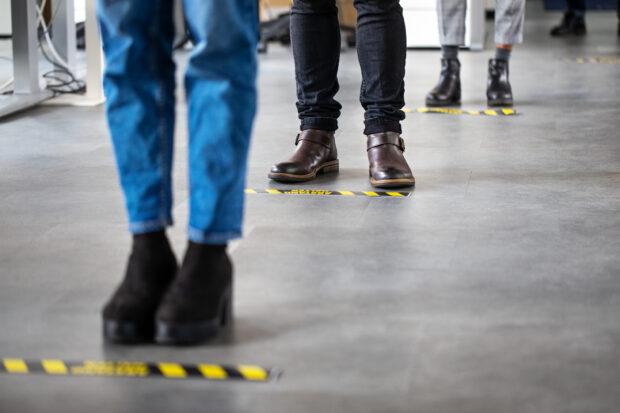 Last week the Prime Minister confirmed we have passed the four tests that allow the planned easing of COVID-19 restrictions to proceed. The good news continues in our courts and tribunals too as cases amongst our staff and court users remain low in line with the national picture as a result of the recent lockdown.
Although restrictions are easing, the safety of our staff and visitors remains our top priority. It is possible that as society reopens, we may see an increase in the number of cases amongst our staff or court users. This would, as in previous months, most likely reflect local community transmission rates, but it's something we want to prevent as far as possible.
To keep our staff and court users safe, we'll continue to follow all public health guidance as it's updated. For this stage of the roadmap we will keep our current safety measures including:
social distancing, plexiglass screens, face coverings in court and remote hearings (where a judge decides it's appropriate)
continued observance of hands, face, space and fresh air guidance
asking visitors with any symptoms, a positive PCR or lateral flow test to stay away from our buildings
managing any cases we identify quickly and robustly which includes notifying any close contacts
maintaining our weekly court risk assessments and rigorous cleaning regimes
We urge frequent court users to take regular tests by ordering free rapid lateral flow tests to check for symptoms or collect a home testing kit if you're visiting one of our buildings. In areas where variants of concern are identified, like in the north west at the moment, we may also see focussed testing and contact tracing.
It's likely that these measures will need to evolve as society opens up again. If you're visiting one of our buildings, you may find we're rearranging our building or working a little differently, but we'll keep the impact on you to a minimum. You can use Find a Court and Tribunal to get up-to-date information on individual courts.
As we're assessing what we need to do to keep you safe the measures we do take will be appropriate and will reflect the safety guidance published by Public Health England, Wales and Scotland. We hope that by confirming our plans you'll continue to feel safe when attending court and reassured that we're all working together to keep delivering justice for those who need it. For the latest information visit our guidance page for court users.