[English] - [Cymraeg]
My name is Michaela, I have been a Judge's Clerk for just over 3 years and am currently based in London full time. We used to go out on Circuit but last year my judge took on a London based role.
What is a Judge's Clerk?
A judge's clerk provides first line support to a Lord or Lady Justice of Appeal or High Court Judge by ensuring best use of the judge's time, enabling them to concentrate on the delivery of justice. They manage all aspects of their judge's day; involving administrative duties such as typing of judgments, decisions and orders, diary management, and liaising with internal and external stakeholders including legal counsel, members of the public and other members of the judiciary.
What is a typical day in court like?
This is an average day in court if my judge is sitting alone in the Queen's Bench Division (QB) or Admin Court.
7am – I wake up and get ready for work. I always wear all black to work, and usually leave a suit jacket there. It is important that I am formal enough to be in court but also to be suitably dressed for the physical side of the job, like carrying heavy boxes and bundles up and down stairs, or going up a ladder to reach books.
8am – I get a Thameslink train into City Thameslink and walk up Fleet Street. I love working in central London, there are so many great places within walking distance. As I walk up Fleet street it is busy with a mix of tourists and commuters.
9am - As I get to the Royal Courts of Justice (RCJ) there are often large groups of press or protesters outside. I try my best to avoid this and go in through a side entrance. From the first time I saw RCJ I'd wanted to work there. It is such a beautiful historic building, I just love it. I check the post room on my way in, then head to my desk to check my emails.
9.15am – I go in and see my judge, check how she is, and offer her a cup of tea. We run through the plan for the day. If my judge is in the Admin Court I check all the papers are together, making sure she has seen any late bundles or papers. I check the Cause List online (the list of cases to be heard by the court on a specific day) to confirm which court my judge is sitting in, and add this information to my judge's notebook.
10am – I check that my judge has the correct robes for the day and take the papers to court to get the bench ready for my judge. I check with the court associate that everything is on course to be ready for the judge to start at 10.30am.
10.20am – I take my judge to court, making sure she has everything she needs. When we arrive I check that everyone is ready to start, and either myself or a court usher will seat the judge. (This means walking in behind your judge into court, and while they stand in front of the chair you push it under them, then bow and back out of the court.)
10.40am –Back at my desk I use this time to catch up on judgments that need finalising, emails that need sending and any other work that my judge needs me to do. I will usually have a coffee and a bit of breakfast whilst I work at my desk.
12.30pm – I get my judge lunch if needed and prepare anything she may need to see during her lunch break.
1.05pm – My judge will return from court. I'll check in with her, give her tea and lunch, and see if she has finished in court or if she is back again in the afternoon. If so I may need to get some bits together for the afternoon, or I may have received some urgent correspondence in the morning that must be dealt with.
1.50pm – I will take my judge back to court and seat her if needed.
2.05pm – I return to my desk and continue with any work that my judge has left for me to do. I might have a bit of lunch at my desk whilst I do this. I also make sure everything is prepared for the following day and collect any papers that are ready for the judge. I check the judge's diary to see what is coming up in the week ahead and see if anything can be done to prepare in advance.
4.30pm – Court finishes and I check with the judge if the matter is finished and if there are any judgments or orders outstanding. I will remind my judge what is happening the following day and discuss any matters that may have come in since the lunch break. I make my judge a cup of tea and say goodbye.
5pm – I get the Thameslink train home, and if the trains run as planned I am home by 6pm.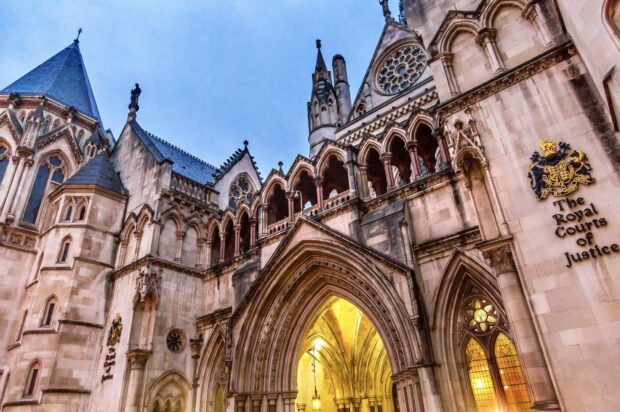 This is a typical day when the judge is sitting in court, but there are often days when I am required to come in earlier or stay later. There are also out-of-hours duties and weekend duties that we are required to cover with our judges several times a year. We work according to our judge's schedule which requires us to be conscientious and flexible.
How does this differ if you are on circuit?
Circuits are the six geographical regions which England and Wales are split into for the practice of law. They are the areas around which the High Court judges travel (`go out on circuit') where they hear some of the most high profile cases.
When you are on circuit you are working away from home: you will drive to lodgings on a Sunday afternoon and stay there during the week. You have your own bedroom and bathroom that remains as yours for the entirety of your circuit and you can leave your things there over the weekend (but you can't sleep there Friday or Saturday nights.) You will often be in lodgings with other judges and clerks so it's a great opportunity to meet colleagues you may not have met before.
You could be on circuit any time from a few days to a few months, depending on your judge's responsibilities and the work allocation. The circuits cover the whole of England and Wales, but not usually Scotland or Northern Ireland. You are taken to and from court in official cars, but once you are at work your role is very similar to London. Occasionally on circuit there are official ceremonies or events that you will attend with your judge that you would not have in London.
What is most surprising about your role?
I would say the variety. My judge sits in many different courts and they all have different requirements and systems. She also has other roles within her position as a judge that she requires me to be involved with. At first it was a lot to learn but now it's what keeps the job interesting and challenging.
What is most challenging about your role?
The amount of transporting heavy boxes you have to around the old building. There are a lot of steps and doorways in the RCJ and there isn't always a direct route suitable for a trolley. When I first started I often asked for advice on routes and did practice runs before court. My judge also sits in other courts across London so I often have to wheel a trolley of bundles between courts.
What do you find the most rewarding?
To be able to help my judge get her very important work done with as little interruption or distraction as possible. Overall, I believe that my work supports the judiciary in the delivery of justice. Also working as a judges' clerk in the RCJ there are many opportunities to participate in projects and expand on your work experience that you just wouldn't get anywhere else.
What do you think makes a successful Judges' Clerk?
I think you have to be flexible, organised and calm. You have to be able to multitask and able to change plans on the spot. You have to be computer literate, able to type and comfortable around legal documents and long judgments. You are a problem solver for the judge. Some days you will be on your feet all day, and others you will be glued to your laptop.
Please search our vacancies if you're interested in becoming a Judge's Clerk.

[English] - [Cymraeg]
A oes gennych chi ddiddordeb mewn bod yn Glerc i Farnwr?
Fy enw i yw Michaela, rwyf ar hyn o bryd yn gweithio'n llawn amser yn Llundain. Roeddem yn arfer bod yn rhan o gylchdaith ond cychwynnodd fy marnwr weithio yn Llundain y llynedd.
Beth mae Clerc i Farnwr yn ei wneud?
Mae Clerc i Farnwr yn darparu cymorth i Arglwydd neu Arglwyddes Brif Ustus y Llys Apêl neu Farnwr yr Uchel Lys drwy sicrhau'r defnydd gorau o amser y barnwr, gan eu galluogi i ganolbwyntio ar y broses o weinyddu cyfiawnder. Maent yn rheoli pob agwedd ar ddiwrnod eu barnwr; sy'n cynnwys dyletswyddau gweinyddol megis teipio dyfarniadau, penderfyniadau a gorchmynion, rheoli dyddiaduron, a chysylltu â rhanddeiliaid mewnol ac allanol gan gynnwys cwnsleriaid cyfreithiol, aelodau o'r cyhoedd ac aelodau eraill o'r farnwriaeth.
Beth yw trefn diwrnod arferol yn y llys?
Dyma drefn diwrnod cyffredin yn fy llys os yw fy marnwr yn eistedd ar ei ben ei hun yn Adran Mainc y Frenhines (QB) neu'r Llys Gweinyddol.
7am – Dwi'n deffro ac yn fy ngwneud fy hun yn barod i fynd i'r gwaith. Dwi wastad yn gwisgo dillad du yn fy ngwaith, ac rwyf *fel arfer yn gadael siaced siwt yno. Mae'n bwysig fy mod yn ddigon ffurfiol i fod yn y llys ond hefyd wedi gwisgo'n addas ar gyfer ochr gorfforol y swydd, fel cario bocsys trymion a bwndeli i fyny ac i lawr y grisiau, neu fynd i fyny'r ysgol i gyrraedd llyfrau.
8am – Dwi'n mynd ar drên Thameslink i Orsaf City Thameslink a cherdded i fyny Fleet Street. Dwi wrth fy modd yn gweithio yng nghanol Llundain, mae cymaint o lefydd gwych o fewn pellter cerdded. Wrth i mi gerdded i fyny Fleet Street, mae'n brysur iawn gyda chymysgedd o dwristiaid a chymudwyr.
9am - Wrth i mi gyrraedd y Llysoedd Barn Brenhinol (RCJ) yn aml iawn mae yna grwpiau mawr o'r wasg neu brotestwyr y tu allan. Ceisiaf fy ngorau glas i osgoi hyn a mynd i mewn drwy'r fynedfa ar ochr yr adeilad. Ers y tro cyntaf i mi weld y RCJ roeddwn i eisiau gweithio yno. Mae'n adeilad hanesyddol prydferth, rwyf wrth fy modd yno. Rwy'n mynd i mewn i'r ystafell bost ar fy ffordd, ac yna'n mynd at fy nesg i ddarllen fy negeseuon e-bost.
9.15am - Rwy'n mynd i mewn i weld sut hwyliau sydd ar fy marnwr, ac yn cynnig cwpanaid o de iddi. Rydym yn mynd drwy'r trefniadau ar gyfer y diwrnod. Os yw fy marnwr yn y Llys Gweinyddol, rwy'n gwirio bod yr holl bapurau gyda'i gilydd, gan sicrhau ei bod wedi gweld unrhyw fwndeli neu bapurau a gyflwynwyd yn hwyr. Rwy'n edrych ar y Rhestr Achosion ar-lein (y rhestr o achosion i'w gwrando gan y llys ar ddiwrnod penodol) i gadarnhau pa lys mae fy marnwr yn eistedd ynddo, a rhoi'r wybodaeth hon yn llyfr nodiadau fy marnwr.
10am - Dwi'n gwirio bod gan fy marnwr y gŵn cywir am y diwrnod ac yn mynd â'r papurau i'r llys i wneud yn siŵr bod y fainc yn barod ar gyfer fy marnwr. Rwy'n siarad gyda chydymaith y llys i sicrhau bod popeth ar y trywydd iawn er mwyn i'r barnwr allu dechrau am 10.30am.
10.20am – Rwy'n mynd â fy marnwr i'r llys, gan wneud yn siŵr bod ganddi bopeth sydd ei angen arni. Pan fyddwn yn cyrraedd rwy'n gwneud yn siŵr bod pawb yn barod i ddechrau, a byddaf i neu'r tywysydd yn dweud wrth bawb yn yr ystafell llys am godi ar eu traed er mwyn i'r barnwr ddod i mewn i'r ystafell ac eistedd i lawr. (Mae hyn yn golygu cerdded y tu ôl i'ch barnwr i mewn i'r llys, a thra bydd y barnwr yn sefyll o flaen y gadair, rydych yn ei gwthio oddi tano, cyn ymgrymu a mynd allan o'r llys.)
10.40am – Pan af yn ôl at fy nesg, byddaf yn defnyddio'r cyfnod hwn i ddal i fyny ar ddyfarniadau y mae angen eu cwblhau, negeseuon e-bost y mae angen eu hanfon ac unrhyw waith arall mae fy marnwr yn gofyn i mi ei wneud. Fel arfer byddaf yn cael coffi ac ychydig o frecwast wrth i mi weithio wrth fy nesg.
12.30pm – Rwyf yn mynd i nôl cinio i fy marnwr os oes angen ac yn paratoi unrhyw beth y mae arni eisiau ei weld yn ystod ei hawr ginio.
1.05pm – Bydd fy marnwr yn dychwelyd o'r llys. Bydda i'n mynd i weld sut mae hi ac yn rhoi te a chinio iddi, ac yn gweld a yw hi wedi gorffen yn y llys neu a fydd hi yn ôl eto yn y prynhawn. Os felly, efallai y bydd angen imi gael rhai pethau gyda'i gilydd ar gyfer y prynhawn, neu efallai fy mod wedi cael gohebiaeth frys yn y bore y mae'n rhaid ymdrin â hi.
1.50pm – byddaf yn mynd â fy marnwr yn ôl i'r llys ac yn dweud wrth bawb yn yr ystafell llys am godi ar eu traed er mwyn iddi eistedd os bydd angen gwneud hynny.
2.05pm – Dychwelaf at fy nesg a pharhau gydag unrhyw waith y mae fy marnwr wedi ei adael i mi ei wneud. Efallai y byddaf yn bwyta ychydig o ginio wrth fy nesg tra byddaf yn gwneud hyn. Dwi hefyd yn gwneud yn siŵr bod popeth yn cael ei baratoi ar gyfer y diwrnod canlynol ac yn casglu unrhyw bapurau sy'n barod ar gyfer y barnwr. Rwy'n edrych yn nyddiadur y barnwr i weld beth sydd ar y gweill yn yr wythnos i ddod a gweld a oes modd gwneud unrhyw beth i baratoi ymlaen llaw.
4.30pm – Bydd gwaith y llys wedi gorffen am y dydd a byddaf yn holi'r barnwr a yw'r achos wedi gorffen ac a oes unrhyw ddyfarniadau neu orchmynion sydd angen eu gwneud. Atgoffaf fy marnwr o'r hyn sy'n digwydd y diwrnod canlynol a thrafod unrhyw faterion sydd wedi dod i fy meddwl ers yr egwyl ginio. Rwy'n gwneud cwpanaid o de i fy marnwr ac yn dweud ffarwel am y dydd.
5pm – Rwy'n dal trên Thameslink yn ôl, ac os yw'r trenau ar amser, rwy'n cyrraedd adref erbyn 6pm.
Dyma ddiwrnod arferol pan fydd y barnwr yn eistedd yn y llys, ond yn aml mae diwrnodau pan fydd gofyn i mi ddod i mewn yn gynharach neu aros yn hwyrach. Mae dyletswyddau y tu allan i oriau gwaith a dyletswyddau penwythnos hefyd ac mae'n ofynnol inni drafod hyn gyda'n barnwyr sawl gwaith y flwyddyn. Rydym yn gweithio yn unol ag amserlen ein barnwr sydd yn mynnu ein bod yn gydwybodol a hyblyg.
Sut mae hyn yn wahanol os ydych yn rhan o gylchdaith?
Mae Cymru a Lloegr wedi eu rhannu'n chwe rhanbarth daearyddol i ddiben ymarfer y gyfraith. Y rhain yw'r cylchdeithiau lle mae barnwyr yr Uchel Lys yn teithio (' mynd allan ar gylchdaith') a lle maent yn gwrando rhai o'r achosion proffil uchaf.
Pan fyddwch ar gylchdaith rydych yn gweithio oddi cartref: byddwch yn gyrru i lety ar brynhawn Sul ac yn aros yno yn ystod yr wythnos. Mae gennych eich ystafell wely a'ch ystafell ymolchi eich hun tra pery'r gylchdaith a gallwch adael eich pethau yno dros y penwythnos (ond ni allwch gysgu yno ar nos Wener na nos Sadwrn.) Yn aml iawn, byddwch mewn llety gyda barnwyr a chlercod eraill felly mae'n gyfle gwych i gyfarfod â chydweithwyr nad ydych wedi'u cyfarfod o'r blaen.
Gall eich cyfnod ar gylchdaith bara am ychydig ddiwrnodau neu fisoedd, yn dibynnu ar gyfrifoldebau eich barnwr a'r llwyth gwaith. Mae'r cylchdeithiau yn cwmpasu Cymru a Lloegr gyfan, ond nid Yr Alban na Gogledd Iwerddon fel arfer. Eir â chi yn ôl ac ymlaen o'r llys mewn ceir swyddogol, ond unwaith yr ydych yn y gwaith mae eich rôl yn debyg iawn i Lundain. Yn achlysurol ar gylchdaith ceir seremonïau neu ddigwyddiadau swyddogol y byddwch yn eu mynychu gyda'ch barnwr na fyddai gennych yn Llundain.
Beth sy'n peri'r syndod mwyaf am eich ôl?
Yr amrywiaeth, ddywedwn i. Mae fy marnwr yn eistedd mewn llawer o lysoedd gwahanol ac mae gan bob un ohonynt ofynion a systemau gwahanol. Mae ganddi hefyd rolau eraill yn ei swydd y mae gofyn i mi ymwneud â hwy. Ar y dechrau roedd llawer i'w ddysgu ond nawr dyna sy'n cadw'r swydd yn ddiddorol ac yn heriol.
Beth sydd fwyaf heriol am eich rôl?
Cludo bocsys trwm o amgylch yr hen adeilad. Mae llawer o risiau a drysau yn yr RCJ ac nid oes llwybr uniongyrchol sy'n addas ar gyfer troli bob amser. Pan ddechreuais, roeddwn yn aml yn gofyn am y ffordd orau o gludo pethau i'r llys, a bu imi ymarfer ryw ychydig o weithiau cyn mynd i'r llys. Mae fy marnwr hefyd yn eistedd mewn llysoedd eraill ar draws Llundain felly mae'n rhaid imi wthio troli o fwndeli rhwng llysoedd.
Beth sy'n rhoi'r boddhad mwyaf ichi?
Gallu helpu fy marnwr i wneud ei gwaith pwysig iawn yn ddidrafferth. Ar y cyfan, credaf fod fy ngwaith yn cefnogi'r farnwriaeth wrth gyflwyno cyfiawnder. Hefyd, mae gweithio fel Clerc i Farnwr yn yr RCJ yn rhoi llawer o gyfleoedd i gymryd rhan mewn prosiectau ac ehangu ar eich profiad gwaith na fyddech yn eu cael yn unman arall.
Yn eich barn chi, beth sy'n gwneud Clerc llwyddiannus?
Rwy'n meddwl bod rhaid i chi fod yn hyblyg, trefnus a thawel. Mae'n rhaid i chi allu cyflawni sawl peth ar yr un pryd a newid eich cynlluniau yn y fan a'r lle. Rhaid i chi allu deall cyfrifiaduron, gallu teipio a bod yn gyffyrddus gyda dogfennau cyfreithiol a dyfarniadau hir. Rydych chi'n berson sy'n datrys problemau i'r barnwyr. Byddwch ar eich traed drwy'r dydd rai dyddiau, a bydd dyddiau eraill lle byddwch wrth eich gliniadur drwy'r dydd.
Os oes gennych ddiddordeb mewn bod yn Glerc i Farnwr, cliciwch yma i wneud cais.