John Rigg is a Business Change Manager in the HMCTS Crime Programme with five years' experience in this field.  Previously he worked in a Crown Court for almost a decade. He's currently involved in the rollout of the cloud video platform (CVP) videoconferencing system to Crown and magistrates' courts. This system makes it possible, where appropriate, for some criminal hearings to take place remotely over video link.
As a business change professional, I'm part of a project team helping to keep the criminal justice system functioning through the coronavirus outbreak.  We're bringing CVP to criminal courts across England and Wales.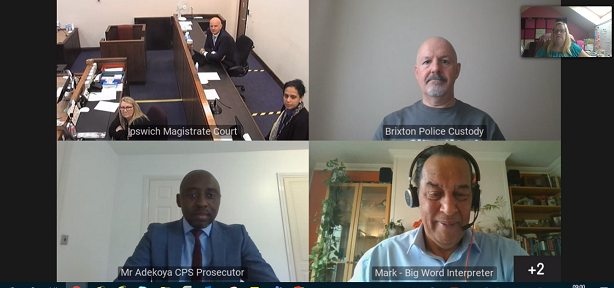 With the right technology, some criminal hearings can be held remotely: the judge or magistrates will be in the courtroom with court staff, but other participants connect through video link.  Defendants can appear from custody while legal practitioners can join from their offices or homes, which cuts down on the need for travel.
This approach isn't appropriate for every kind of hearing. Deciding which cases can be held remotely is up to the judiciary. However, video hearings are a valuable tool, supporting social distancing in the courtroom. They enable us to reduce the number of people entering our buildings and continue hearings.
Achieving change
The coronavirus outbreak has brought with it many challenges – for me, one of the biggest is how it's compressed timescales and how fast circumstances change. We work very hard to transition to video enabled hearings at the pace colleagues expect.
Our previous programme for testing and adopting video technology was planned out until 2022. Now during the pandemic, we're allowing ourselves 10 weeks to get CVP up and running right across the criminal justice system.
Training and learning
Since early April 2020, I've trained over 1,000 people nationwide in how to run or participate in video hearings – court staff and partners in the Crown Prosecution Service (CPS), HM Prison and Probation Service and Youth Offending Teams, as well as defence solicitors and barristers. There is the added challenge of people using different devices and having varying levels of familiarity with video technology.
Each courthouse has run mock hearings, so users can rehearse using their own devices. This helps build confidence, allowing participants to ask questions and get comfortable with new systems and processes. We use their feedback to continually improve the guidance and training we provide.
We now have 62 magistrates' courts, and 52 Crown courts, up and running with CVP. This month we will roll it out further, and it's scheduled to be available in all our criminal courtrooms by the end of July.
What can video be used for?
For video-enabled hearings, we've initially focused on 'priority one' cases – primarily time-critical work including overnight remands for the police station, pre-trial preparation hearings and the sentencing of prisoners held on remand in prison. We're now testing a process for hearing custody time limit cases from prison with early adopter courts.
The scope of the work is continuously reviewed by the Senior Presiding Judge. We'll continue assessing other types of court business for their suitability for video hearings, although how any individual hearing takes place is always up to the judiciary.
The pace of work has been the greatest I've experienced but my first-hand experience of front-line operations and court systems has stood me in good stead. I've been profoundly impressed by the 'can-do' attitude of everyone I've worked with – the judiciary, court staff, legal professionals and criminal justice partners, who have all shown commitment to keeping the wheels of justice turning.
Positive feedback
Our CVP system runs in a web browser, and so is accessible from computers, tablets and smartphones. Joining video hearings is straightforward – if you've used Skype, Zoom or Facetime then it's similar.
However, training and guidance are essential. This is one reason why we've taken a phased approach to rolling out video hearing technology. Our court colleagues are experts in the procedures and rules of the physical courtroom.  Running video hearings means learning new processes and protocols – and the administration of law is too important to attempt without rigorous planning.
Feedback from participants in video hearings has been very positive. Both CPS and legal professionals have told us how they value avoiding non-essential travel and being able to work successfully in the 'new normal'.
The judiciary are already familiar with video links to prison, and are adapting quickly to using CVP. An additional benefit for probation and youth offending teams is that they feel they now have equal visibility in the court.
For me, the most rewarding thing is receiving so much positive feedback from so many users. I'm proud to be able to stand with my team members, seeing the vital business of justice continuing – during a global pandemic – and feel able to say: "We did that!"
We are hosting a webinar for legal professionals on the use of remote hearings during the coronavirus outbreak at 1pm on Wednesday 15 July 2020.