[English] - [Cymraeg]
What is the fully video hearings project?
Video links that enable one or more people to join a traditional court room remotely have been used successfully for many years. What we're doing now is designing a system that allows courts to enable everyone, including the judge, to join a hearing via video without needing to come to a physical court or tribunal room.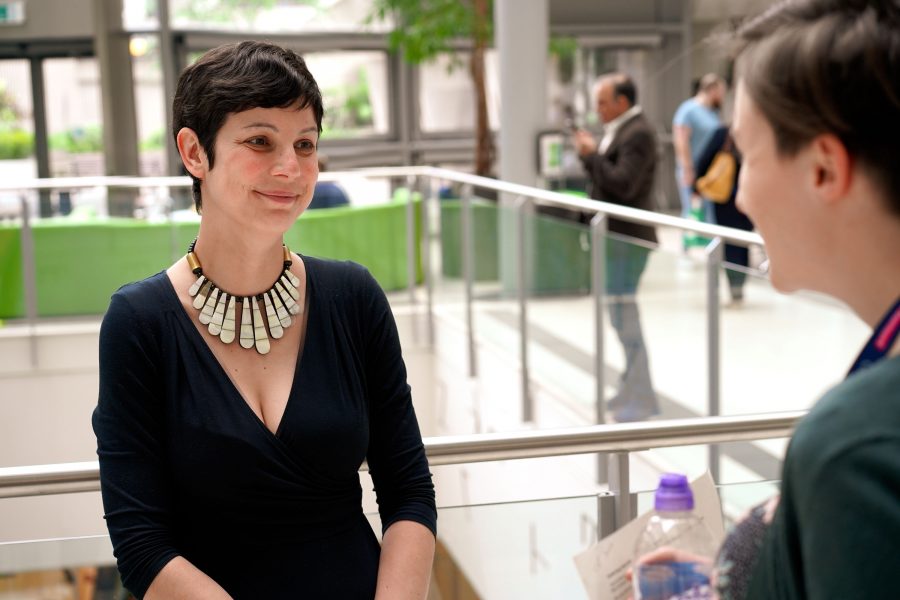 We're currently piloting the technology in some cases and working closely with the judiciary, legal professionals and court staff to make sure we get it right. It won't be appropriate for all hearings but gives courts a further option to conduct proceedings to the benefit of all participants.
Where do you envisage video hearings being used?
It will always be a judicial decision, based on a range of factors, including participants' completion of a suitability questionnaire. They'll never be used for jury trials but we think they'll be particularly useful for progress and preliminary hearings. The decision needs to take into account the hearing type, and each participant involved.
There will be no change to open justice - if a hearing is suitable for open court, the same is true for a fully video hearing.
So, what does a fully video hearing look like?
If the judge decides your hearing is suitable, you'd join the court hearing from your own space - home or office - on your own device, as long as it has a microphone and camera. You don't need any specialist equipment. You'd appear on screen alongside the other participants. Through the project, we're trying to re-imagine the whole court experience, including things like the waiting room, being able to consult with the other party if necessary, and access assistance if needed.
The way in which the judge manages the hearing makes it clear that this is a formal process. The rules of the court and expectations of behaviour are clearly outlined. It will be very obvious to all participants when the hearing is underway, something which is always determined by the judge. It's all very formal, so you'd definitely know you're in a court room and in a hearing, even though you could be sitting in your office.
What are the benefits and might they exclude litigants in person, vulnerable parties and children?
For some court users, reduced travel – time and associated costs - is an enormous benefit. For legal professionals, the hearings themselves can be more effective, for example, in getting the right experts and witnesses together at the same time. It also means that urgent hearings can be held, even when those involved are geographically distant from each another. And there are also benefits for a range of organisations who need to appear at court, for example, reducing staff time and travel costs.
For some groups video hearings may offer real benefits including increasing accessibility. Our early testing includes litigants in person and user feedback has highlighted the practical advantage of not having to travel to a physical court.
There will always be some cases and some people for whom a video hearing isn't suitable but it's never going to be solely dependent on a characteristic. As I say, the judge will always make that decision.
Will the technology be good enough?
That's really the focus of our project and why we use small-scale testing and iterative techniques. We're not just designing the technology but the support services around it, which will include dealing with technological issues. For example, developing processes to manage how participants will be supported, if there are technical issues. We've tested early prototypes and by the end of the year, hope to release further improvements to the service. It's part of our iterative process to establish what works and what doesn't, through testing. We're still at early stages, but know you can have an effective hearing through video and are now building understanding as to where they will be most effective and offer most value to the user.
What evidence is there that fully video hearings are effective?
Last year's small-scale pilot in tax tribunals was evaluated by independent academics from the London School of Economics. Their report found the hearing was clear, easy to navigate, and user-friendly, which is great, but we're doing more testing in the next few months. We're also carrying out further small-scale testing across two jurisdictions: civil and family in Manchester and Birmingham. Some of these test cases have already enabled domestic abuse victims to seek injunctions more easily and without the stress of travelling to or appearing in court in person. This work will also be independently evaluated and we'll publish the findings as soon as we can.
You can read the latest on the reform programme in the summer 2019 issue of our Reform Update.
Cyfweliad â Sue Newfield, Rheolwr Gwasanaeth, Prosiect Gwrandawiadau Cyswllt Fideo Cyflawn
Beth yw'r prosiect gwrandawiadau cyswllt fideo cyflawn?
Mae cysylltiadau fideo sy'n galluogi un neu fwy o bobl i ymuno â gwrandawiad mewn ystafell lys draddodiadol o bell wedi cael eu defnyddio'n llwyddiannus am nifer o flynyddoedd. Erbyn hyn, rydym yn cynllunio system sy'n caniatáu i bawb, yn cynnwys y barnwr, ymuno â gwrandawiad drwy gyswllt fideo heb orfod teithio i adeilad llys neu dribiwnlys.
Ar hyn o bryd rydym yn profi'r dechnoleg mewn rhai achosion, gan weithio'n agos â'r farnwriaeth, gweithwyr proffesiynol ym maes y gyfraith a staff y llys i sicrhau bod popeth yn gweithio'n iawn. Ni fydd yn addas ar gyfer pob math o wrandawiad, ond mae'n cynnig ffordd arall o gynnal gwrandawiad er budd yr holl bobl sy'n rhan ohono.
Ble rydych yn rhagweld y bydd gwrandawiadau fideo yn cael eu defnyddio?
Bydd wastad yn benderfyniad a wneir gan farnwr, yn seiliedig ar nifer o ffactorau, yn cynnwys holiadur addasrwydd a fydd yn cael ei lenwi gan y bobl sy'n rhan o'r achos. Ni fyddant byth yn cael eu defnyddio mewn treialon gyda rheithgor, ond rydym yn credu y byddant yn ddefnyddiol iawn ar gyfer gwrandawiadau cynnydd a gwrandawiadau rhagarweiniol. Bydd rhaid i'r penderfyniad ystyried y math o wrandawiad a phob unigolyn sy'n rhan o'r achos.
Ni fydd unrhyw newid gyda golwg ar weinyddu cyfiawnder yn agored – os bydd gwrandawiad yn addas i'w gynnal mewn llys agored, mae'r un peth yn wir am wrandawiad cyflawn drwy gyswllt fideo.
Felly, sut beth yw gwrandawiad cyswllt fideo cyflawn?
Os bydd y barnwr yn penderfynu bod eich gwrandawiad yn addas, byddwch yn ymuno â'r llys o rywle arall - eich cartref neu eich swyddfa - ar eich dyfais eich hun, cyn belled â bod gan y ddyfais feicroffon a chamera. Nid oes arnoch angen offer arbenigol. Byddwch yn ymddangos ar y sgrin ochr yn ochr â phobl eraill sy'n rhan o'r achos. Trwy gydol y prosiect, rydym yn ceisio ail-greu'r profiad o fod yn y llys, yn cynnwys pethau fel ystafell aros, gallu ymgynghori â'r parti arall os bydd angen, a chael mynediad at gymorth os bydd angen.
Bydd y ffordd mae'r barnwr yn rheoli'r gwrandawiad yn gwneud yn glir fod y broses yn un ffurfiol. Eglurir rheolau'r llys a'r disgwyliadau o ran ymddygiad yn glir. Bydd yn amlwg iawn i bawb sy'n cymryd rhan pryd y bydd y gwrandawiad yn cychwyn,a phenderfyniad y barnwr yw hynny bob amser. Mae'r holl beth yn ffurfiol iawn, felly byddwch yn siŵr o wybod eich bod mewn ystafell lys ac mewn gwrandawiad, er y gallech fod yn eistedd yn eich swyddfa.
Beth yw'r manteision ac a oes perygl y bydd ymgyfreithwyr drostynt ei hunain, partïon bregus a phlant yn cael eu cau allan?
Yn achos rhai defnyddwyr llys, bydd lleihau teithio – a'r amser a'r costau cysylltiedig - yn gryn fantais. Yn achos gweithwyr proffesiynol ym maes y gyfraith, gall y gwrandawiadau eu hunain fod yn fwy effeithiol, er enghraifft, trwy gael yr arbenigwr iawn a'r tystion i gyd at ei gilydd ar yr un pryd. Hefyd, mae'n golygu y gellir cynnal gwrandawiadau brys, hyd yn oed pan fo'r partïon yn bell i ffwrdd oddi wrth ei gilydd yn ddaearyddol. Mae yna nifer o fanteision hefyd i sefydliadau sydd angen ymddangos gerbron y llys, er enghraifft, lleihau'r amser mae staff yn ei dreulio yn delio ag achos a lleihau costau teithio.
Yn achos rhai grwpiau, gall gwrandawiadau fideo fod yn fuddiol iawn, gan gynyddu mynediad at wasanaethau'r llys. Yn dilyn ein profion cynnar cafwyd sylwadau gan ymgyfreithwyr drostynt eu hunain a defnyddwyr eraill, ac mae'r sylwadau hyn wedi tynnu sylw at y fantais ymarferol o beidio â gorfod teithio i adeilad llys.
Mae'n anorfod y bydd rhai achosion lle na bydd gwrandawiad fideo yn addas, a bydd rhai pobl na fydd gwrandawiad fideo yn addas iddynt, ond ni fydd cynnal gwrandawiad o'r fath yn ddibynnol ar nodwedd benodol. Fel y nodwyd uchod, y barnwr fydd wastad yn gwneud y penderfyniad hwnnw.
A fydd y dechnoleg yn ddigon da?
Mae ein prosiect yn canolbwyntio ar y dechnoleg a dyna pam rydym yn cynnal profion ar raddfa fach ac yn ailadrodd y profion. Rydym yn dylunio'r dechnoleg a'r gwasanaethau cefnogol cysylltiedig yn ogystal, a bydd hynny'n cynnwys delio â phroblemau technolegol. Er enghraifft, datblygu prosesau i reoli sut y bydd pobl sy'n cymryd rhan mewn gwrandawiad yn cael eu cefnogi. Rydym wedi profi prototeipiau cychwynnol ac erbyn diwedd  y flwyddyn rydym yn gobeithio cyflwyno gwelliannau pellach i'r gwasanaeth. Mae'r broses o gynnal profion, ac ailadrodd y profion hynny, yn sefydlu'r hyn sy'n gweithio'n dda a'r hyn nad yw'n gweithio'n dda. Mae hi'n gynnar yn y broses ar hyn o bryd, ond gwyddom fod modd cael gwrandawiad effeithiol drwy fideo ac rydym yn gwella ein dealltwriaeth o'r adegau pan fyddant fwyaf effeithiol a phan fydd y defnyddiwr yn elwa fwyaf o gael gwrandawiad drwy gyswllt fideo.
A oes tystiolaeth sy'n dangos bod gwrandawiadau cyswllt fideo cyflawn yn effeithiol?
Cafodd ein cynllun peilot bach, a gynhaliwyd y llynedd, ei werthuso gan academyddion annibynnol o'r London School of Economics. Daethant i'r casgliad bod y gwrandawiad yn glir, yn hawdd i'w ddeall ac yn hwylus i ddefnyddwyr, sy'n wych, ond byddwn yn cynnal rhagor o brofion yn y misoedd nesaf. Byddwn hefyd yn cynnal profion eraill ar raddfa fach ar draws dwy awdurdodaeth wahanol: sef y maes sifil a'r maes teulu, ym Manceinion a Birmingham. Mae rhai o'r achosion sy'n rhan o'r broses brofi eisoes wedi galluogi rhai dioddefwyr camdriniaeth ddomestig i gael gwaharddebau'n haws, heb y straen ychwanegol o orfod teithio i'r llys neu ymddangos yn bersonol yn y llys. Bydd y gwaith hwn hefyd yn cael ei werthuso'n annibynnol a byddwn yn cyhoeddi'r canfyddiadau cyn gynted ag y bo modd.
Gellir darllen yr wybodaeth ddiweddaraf am y rhaglen ddiwygio yn rhifyn haf 2019 ein Diweddariad ar Ddiwygio.