The origin of the jury is much disputed by historians. Most agree, however, that it began with the English king, Æthelred the Unready, who ascended to the throne in 978. He issued a legal code stating that 12 leading 'thegns' (minor nobles) of each district were required to swear on holy relics to investigate crimes without bias, and to act in accordance with the law and their own good consciences.
These 'juries' were self-informing: instead of receiving information through a trial, they had to investigate the case themselves. They were then charged with publishing the names of any 'notorious or wicked men' in their respective districts.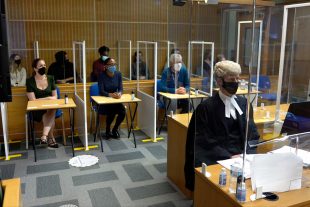 (Photograph of a mock jury trial for illustrative purposes only)
We've come a long way since then, and the notion of trial by jury has developed substantially. In 1215, Magna Carta included recognition that a person has the right to be trialled by 'the lawful judgment of his peers'. By the mid-15th century, juries were known as independent assessors and notorious for their role as deciders of fact.
Juries remain a steadfast principle of our criminal justice system today.
A vital role during the pandemic
Jury trials re-started in May last year, after being halted temporarily in March as the pandemic took hold. Since then, the role of jurors in delivering trials and keeping the justice system operating since cannot be overstated. Since the start of the pandemic, we've sent out just under 470,000 summonses – although, of course, not all of these end up being served.
Lord Burnett of Maldon, the Lord Chief Justice, reinforced the significance of their role recently, when he said:
Trial by jury is at the heart of our criminal justice system and serving as a juror is an important public duty. I thank all who serve as jurors, especially during the COVID-19 pandemic, for playing their part in supporting the administration of justice.
We're proud that ours was the first among comparable jurisdictions globally to resume jury trials in a COVID-secure way. Our Crown Courts now list hundreds of cases – on average 309 jury trials per week – in a similar number of courtrooms across England and Wales.
This meant that we could deal with the most urgent cases to keep people safe. We could protect the vulnerable and safeguard children at a time when every pillar of society was challenged, and even comprised, by the devastating impacts of COVID-19.
Faced with a growing number of outstanding cases in May last year, crime recovery work is now moving at pace, thanks in part to the quiet, dignified army of jurors on which jury trials depend.
Safety first and foremost
In order to provide a safe environment for jurors, and indeed all our courts users, we have a range of special arrangements in place to maintain safety. These include supporting social distancing with carefully supervised entrances and exits, and in some cases, using plexiglass screens to help keep people apart and providing separate courtrooms for jury deliberations. In smaller deliberation rooms, we provide jurors with fluid resistant surgical masks as an extra precaution. Meanwhile, separate Portakabin buildings are used as jury deliberating rooms or for jury management at 14 locations, as an additional safety measure.
Each Crown Court building must meet clear standards and safety criteria approved by public health bodies before they can hold jury trials and each is subject to regular review.
Jurors' feedback
As an organisation, we always welcome feedback and use it to inform future services and ways of working. Jurors' feedback from all parts of the country over the last ten months has been both reassuring and inspiring.
A juror in June last year, described a "very positive experience." Another at the same court commented:
What an experience and given the pandemic amazing organisational skills.
For our court staff in particular, it's reassuring to have their hard work recognised. One juror praised the service at Oxford Crown Court in August 2020:
You did a great deal of work and thought on how to set up the building in the safest possible way. Much appreciated.
Another juror, who had expressed concerns before their trial last year at Woolwich Crown Court, commented afterwards:
Jury experience very good. Varied opinions and everyone given the chance to participate. Relieved!
Responding to a summons
If you receive a summons, it's important to remember that you can ask to be excused from jury service if you are able to give a good reason, such as having a serious illness or if you are caring for someone who does.  You may also ask to change the dates of your jury service, if you cannot attend on the dates in your summons letter.
Concerns about coronavirus itself is not a basis to defer or be excused from jury service, unless you have recently tested positive or are displaying symptoms. Similarly, if you are following advice to self-isolate you will not be expected to start your jury service until your isolation has ended, and should reply to your summons letter to give your reason.
It is vital that jurors continue to uphold the honourable principles first outlined by Æthelred the Unready, and developed over centuries, to meet the demands of a modern, civilised society. We owe them all an enormous debt of gratitude.