[English] - [Cymraeg]
When we think of workplaces adapting during the pandemic, we may think of restaurants swapping their fine-dining offer to deliver food parcels to shielding neighbours, or NHS staff adapting hospital facilities to support increased demand. But many other workplaces had to innovate too. 
In the criminal courts in England and Wales, we need to ensure justice continues to provide a vital, safe service to those who need it most. Any innovation also has to address the number of outstanding criminal court cases so the justice system can be accessed swiftly when needed – whether to resolve a business dispute, protect a child at risk, or bring an offender to justice.
Nightingale courtrooms are one successful weapon in our fight back against the effects of the pandemic, alongside other measures, such as the use of remote technology. But these measures alone can't tackle the huge challenges in returning our courts to dealing with their previous levels of work. With social distancing and safety measures rightly in place to protect all court users, few courts are operating at their pre-COVID capacity levels.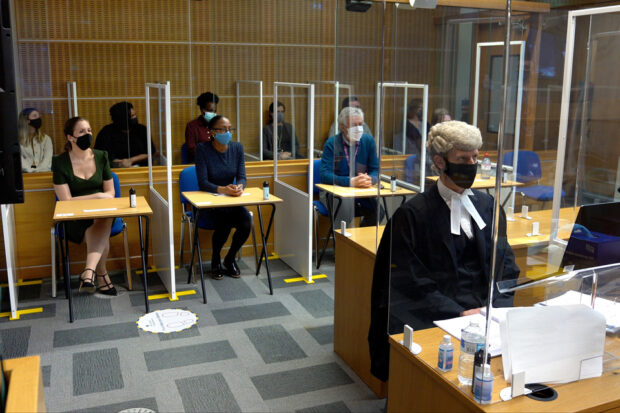 Finding innovative solutions 
At Hendon Magistrates' Court, in the London Borough of Barnet, available space is providing vital extra support to nearby Wood Green Crown Court. The building has been transformed to host jury trials for the first time which, given the numbers of people involved, requires a larger space. 
A ten-courtroom centre pre-COVID, Wood Green is currently only able to sit four courtrooms for jury trials. Its other courtrooms are being used as an extra public gallery, jury retiree rooms and for administrative hearings. So, despite working with all the facilities currently available, Wood Green is unable to perform at its previous operational levels.   
Judge Noel Lucas QC, resident judge at Wood Green and now in temporary chambers in Hendon, welcomed the new facilities, after more than six months of planning: 
"These additional courtrooms will enable us to virtually double our trial capacity. We may not be able to stem the tide of our backlog increasing, but we will very significantly slow that increase down.  
"Justice delayed is justice denied. I know it's a well-worn expression, but it means something. It means that those who have been victims of crime are entitled to have their allegations resolved swiftly and fairly and those who are accused of a crime are also entitled to have their cases resolved both swiftly and fairly. I feel very strongly that we must do everything in our power to increase our trial capacity for those reasons." 
Overcoming challenges together 
Hendon will provide its support to Wood Green for the next 12 months, but it's already had an impact. Mahesh Patel, the court's operations manager, explains what the team have achieved so far: 
"It's working really well. We've dealt with 60 trials since opening on 8 April 2021 and are running at 100% capacity. 
"It's a collaborative effort – our staff have been amazing and are proud to be able to do their bit to help get the justice system back on track."   
One of the biggest barriers to adapting existing facilities to accommodate jury trials is often the custody provision. The magistrates' court at Hendon already had its own cells, meaning two of the courts can conduct trials where the defendant is in custody and a third room is set aside for bail cases. 
Accommodating 12 jurors in courtrooms that don't usually have a jury is another significant challenge. Jurors at the newly-configured Hendon court will find themselves seated in and around what used to be the public gallery. 
Staff overcame these challenges by working together and with other court users. They hosted mock trials to iron out any issues before live trials could begin.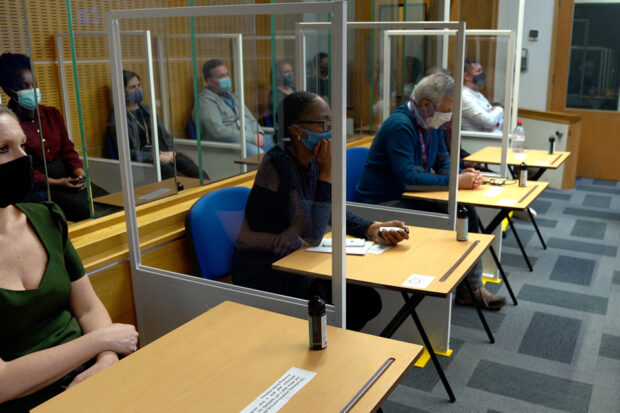 Feedback 
Richard Beynon from Red Lion Chambers, who participated in a full mock trial, commented: 
"I was a marshal, coming in with Judge Lucas to see things from the bench and really to pick up those items that it's very difficult to gauge unless you actually see it in front of you. It's [been] a really constructive day today." 
Participants fed back on sight lines, including identifying the best vantage points for jurors or the defendant. They also advised that barristers could turn their backs to the judge to speak directly to the jury.  
Joanne Towens, HMCTS Cluster Manager, added her view of the collaborative effort: 
"Opening the additional 'Nightingale' courts and repurposing existing courtrooms at Hendon Magistrates' Court has been challenging but very rewarding for all. The additional capacity offers us the opportunity to list more cases, which helps all court users. 
"Feedback from court users so far is positive. They like the fact that HMCTS is thinking outside the box, that we are considering all options, including conference centres and hotels.  
"Involving court users from an early stage in these projects has helped to make them a massive success. We are extremely proud of all we have achieved so far."

[English] - [Cymraeg]
Dull creadigol ar gyfer adfer y llysoedd troseddol
Tîm cyfathrebiadau GLlTEM
Pan rydym yn meddwl am weithleodd yn addasu yn ystod y pandemig, efallai y byddwn yn meddwl am fwytai yn rhoi'r gorau i weini bwyd mewn amgylchedd moethus i gludo pecynnau bwyd i gymdogion sy'n gwarchod, neu staff y GIG yn addasu cyfleusterau ysbytai i ymateb i'r galw cynyddol, ond mae llawer o weithleodd eraill wedi gorfod arloesi hefyd.
Yn y llysoedd troseddol yng Nghymru a Lloegr, rhaid inni sicrhau bod y system gyfiawnder yn parhau i ddarparu gwasanaeth hanfodol a diogel i'r sawl sydd ei angen fwyaf. Rhaid i unrhyw arloesi hefyd fynd i'r afael ag achosion troseddol sydd heb eu penderfynu eto, fel pan fo angen y system gyfiawnder – p'un a yw'n ymwneud ag anghydfod busnes, diogelu plentyn sydd mewn perygl, neu weinyddu cyfiawnder i droseddwr – bod modd cael mynediad at y system gyfiawnder yn gyflym.
Mae'r llysoedd Nightingale wedi bod yn arf llwyddiannus yn y frwydr yn erbyn effeithiau'r pandemig, ochr yn ochr â mesurau eraill, fel defnyddio technoleg o bell. Fodd bynnag, ni all y mesurau hyn yn unig fynd i'r afael â'r heriau anferthol wrth geisio dychwelyd i'r lefelau o waith oedd ein llysoedd yn delio â hwy yn flaenorol. Gyda mesurau cadw pellter cymdeithasol a mesurau diogelwch mewn lle i ddiogelu holl ddefnyddwyr y llysoedd, nid oes llawer o lysoedd yn gweithredu ar y lefelau oeddynt cyn COVID.
Dod o hyd i ddatrysiadau arloesol
Yn Llys Ynadon Hendon, yn Barnet, un o Fwrdeistrefi Llundain, mae'r gofod sydd ar gael yn darparu cymorth hanfodol ychwanegol i'r Llys y Goron cyfagos yn Wood Green. Mae'r adeilad wedi'i drawsnewid i gynnal treialon rheithgor am y tro cyntaf, sydd, oherwydd y nifer o bobl sy'n rhan o achosion o'r fath, yn gofyn am ofod mwy.
Cyn COVID, roedd deg ystafell llys ar gael yn Llys y Goron Wood Green, ond ar hyn o bryd mae modd defnyddio dim ond pedair ystafell llys ar gyfer treialon rheithgor. Mae'r ystafelloedd llys eraill yn cael eu defnyddio fel galeri cyhoeddus ychwanegol, ystafelloedd ymneilltuo i reithgorau ac ar gyfer cynnal gwrandawiadau gweinyddol. Felly, er gwaethaf defnyddio'r holl gyfleusterau sydd ar gael ar hyn o bryd, nid yw Wood Green yn gallu perfformio i'w lefelau gweithredu blaenorol.
Roedd y Barnwr Noel Lucas CF, barnwr preswyl yn Wood Green, sydd nawr mewn siambrau dros dro yn Hendon, yn croesawu'r cyfleusterau newydd yn Hendon, yn dilyn dros chwe mis o gynllunio:
"Bydd yr ystafelloedd llys ychwanegol hyn yn ein galluogi i ddyblu ein capasiti i gynnal treialon. Efallai ni fydd modd inni roi stop i'r ôl-groniad cynyddol o achosion, ond byddwn yn gallu arafu'r cynnydd yn sylweddol.
"Nid yw cyfiawnder gohiriedig yn gyfiawnder. Mae'n ymadrodd a ddefnyddir yn aml, ond mae'n golygu llawer. Mae'n golygu bod gan y rhai hynny sydd wedi bod yn ddioddefwyr trosedd yr hawl i gael eu honiadau wedi'u datrys yn gyflym ac yn deg ac mae gan y sawl sydd wedi'u cyhuddo o drosedd hefyd yr hawl i'w hachosion gael eu datrys yn gyflym ac yn deg. Rwy'n teimlo'n gryf iawn y dylem wneud popeth y gallwn i gynyddu ein capasiti am y rhesymau hynny."
Goresgyn heriau gyda'n gilydd
Bydd Hendon yn darparu cymorth i Wood Green am y 12 mis nesaf, ond mae wedi cael effaith yn barod. Mae Mahesh Patel, rheolwr gweithrediadau'r llys, yn esbonio beth mae'r tîm wedi ymdrin ag ef hyd yma:
"Mae'n gweithio'n dda iawn. Rydym wedi cwblhau 60 o dreialon ers agor ar yr 8fed o Ebrill 2021 ac rydym yn gweithredu ar 100% o'n capasiti.
Mae'n ymdrech ar y cyd – mae ein staff wedi bod yn anhygoel ac maen nhw'n falch o fod yn chwarae eu rhan i adfer y system gyfiawnder."
Un o'r rhwystrau mwyaf i addasu cyfleusterau presennol i ganiatáu cynnal treialon rheithgor yw'r ddarpariaeth o ran y ddalfa. Roedd gan y llys ynadon yn Hendon gelloedd ei hun yn barod, felly roedd dau o'r llysoedd yn gallu cynnal treialon lle bo'r diffynnydd yn y ddalfa ac mae trydydd ystafell wedi'i neilltuo ar gyfer achosion mechnïaeth.
Mae gwneud lle i 12 o reithwyr mewn ystafelloedd llys sydd fel arfer heb unrhyw reithwyr wedi bod yn her sylweddol. Bydd rheithwyr yn y llys wedi'i addasu yn Hendon yn eistedd yn, ac o amgylch, be oedd yn arfer bod y galeri cyhoeddus.
Mi wnaeth staff oresgyn yr heriau hyn trwy weithio gyda'i gilydd a chyda defnyddwyr eraill y llys. Cynhaliwyd treialon ffug i fynd i'r afael ag unrhyw broblemau cyn cynnal unrhyw dreialon byw.
Adborth
Meddai Richard Beynon o'r Siambrau Llew Coch, a oedd wedi cymryd rhan mewn treial ffug llawn:
"Roedd i'n farsial, yn dod i mewn gyda'r Barnwr Lucas i weld pethau o safbwynt y fainc ac i sylwi ar y pethau hynny sy'n anodd ei hystyried oni bai eich bod yn eu gweld yn digwydd o flaen eich llygaid. Mae wedi bod yn ddiwrnod adeiladol iawn heddiw."
Mi wnaeth cyfranogwyr roi adborth ar yr hyn oeddynt yn ei weld, yn cynnwys y mannau gorau i reithwyr neu'r diffynnydd fod. Wnaethon nhw hefyd roi cyngor bod modd i fargyfreithwyr troi eu cefnau ar y barnwr er mwyn siarad yn uniongyrchol â'r rheithgor.
Rhoddodd Joanne Towens, Rheolwr Clwstwr GLlTEM, ei barn ar yr ymdrech ar y cyd:
"Mae agor y llysoedd Nightingale a gweddnewid ystafelloedd llys i'w defnyddio at bwrpas hollol newydd wedi bod yn heriol ond mae wedi rhoi llawer o foddhad i bawb hefyd. Mae'r capasiti ychwanegol yn rhoi'r cyfle i ni restru mwy o achosion, sy'n helpu holl ddefnyddwyr y llys.
"Mae'r adborth gan ddefnyddwyr y llysoedd hyd yma yn gadarnhaol. Maen nhw'n hoffi'r ffaith bod GLlTEM yn meddwl yn greadigol ac ein bod yn ystyried yr holl opsiynau, yn cynnwys canolfannau cynhadledd a gwestai.
"Mae cynnwys defnyddwyr y llysoedd yng nghamau cynnar y prosiectau hyn wedi helpu i'w gwneud yn llwyddiant ysgubol. Rydym yn falch iawn o bopeth rydym wedi'i gyflawni hyd yma."