[English] - [Cymraeg]
Interview with Sidonie Kingsmill, Customer Director, HMCTS
What is the most common misconception about the reform programme and how it will affect vulnerable or disadvantaged people?
The biggest myth is that we're closing all our courts and making everyone apply for everything online. That's simply not true. Of course, we'll have court and tribunal buildings in the future and people will appear for a variety of cases, including complex and serious ones. But the reform programme is providing additional ways to access justice - like online applications and video hearings – which make it easier to solve your legal problem, and means that fewer people need additional support.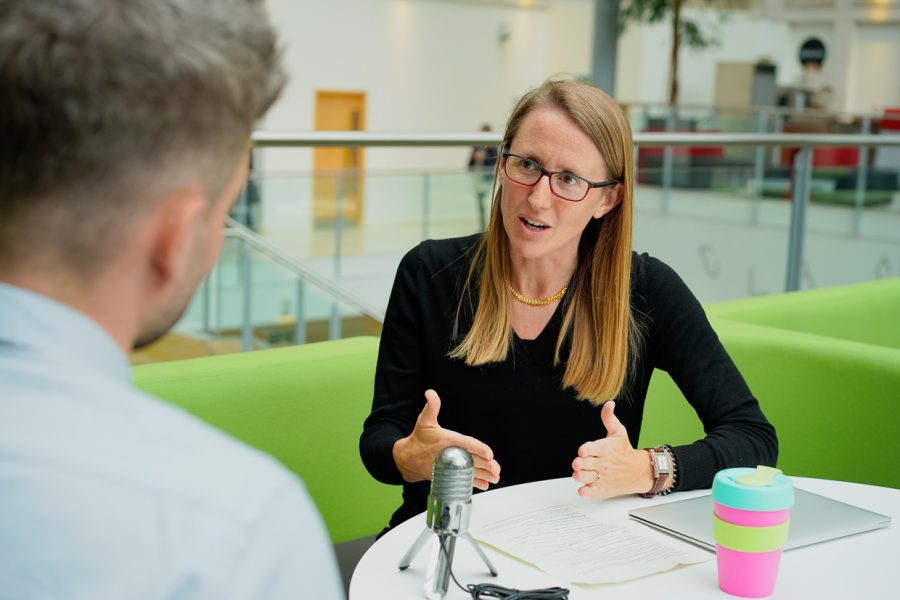 We know that lots of people prefer online processes – they find them easier and more convenient, and like the immediate confirmation when they get it right. But we also know there are lots of people who are only able to, or prefer to start their process on paper – this may be because they don't have English as a first language, or don't feel safe online. I want to make really clear that the paper routes will not be a poor relation to their digital counterparts. Crucially, our paper forms are being improved alongside the online process, so whatever channel you're using, you'll have a better all-round experience of the court or tribunal process, and our staff will be able to help you in the same way.
How do you take the needs of vulnerable or excluded groups into consideration?
Obviously, we do a lot of user insight - talking directly to court and tribunal users to understand what they need, service by service, as well as larger scale quantitative research. We observe the user experience, consult with advice organisations, and study complaints data and reasons for calling us, to inform how we design services. But one of the benefits of bringing services online is that we can track how people are using our services, and make changes in real time. So even if we don't get it right first time, we can improve it quickly.
One of the features of justice is that pretty much anybody who accesses our services could be defined as vulnerable, as they are likely to be going through a difficult time in their lives. However, many of our users have multiple complex needs, such as poor health, trauma, abuse or addiction. Designing our services so they are inclusive and meet the needs of everyone is a start, and we must also give our colleagues the space and capability to support users who need help.
In what ways are you supporting vulnerable users?
We're improving the resources and information we provide online, including adding a web-chat service and screen sharing support, and improving our online search journeys. We're updating our paper application forms to capture contact preferences, so that even if you prefer to start your case on paper, you can still benefit from SMS or email notifications and communication.
If you want to talk to a human being, we can help you over the phone. All our staff in CTSCs, which only opened in Stoke and Birmingham earlier this year, are trained to help vulnerable people over the phone. And if you need more intensive support, you can book an appointment with one of our local partner organisations and speak to someone face to face. We've been working with the digital inclusion charity, Good Things Foundation, to work out how to deliver free of charge face-to-face assistance via a network of local community partners, including libraries, Citizens Advice offices and community hubs. We're piloting this service in 17 centres across England and Wales to try different approaches to delivery, and we're planning to add more sites throughout this year.
In 23 of our larger court and tribunal buildings, Personal Support Units (PSUs) offer emotional and procedural support to users across the country, and help half a million people every year. We know that vulnerabilities can sometimes be picked up 'at the last minute' when a person comes to a court or a tribunal attend a hearing, either by HMCTS staff, volunteers, charity or third sector workers. We're working hard to ensure that these can be picked up earlier, but in addition we're bringing in roles for our court and tribunal staff to support users before they enter their hearing.
We're working on developing more sophisticated scheduling and listing tools, which will help us to put the right amount of hearings at the right time, and reduce waiting times. We're also improving our physical spaces - things like having better seating and clean, comfortable spaces for people when they come in, including improved facilities for children. We've also provided more private waiting areas - a physical barrier for opposing sides, to make it more possible for vulnerable people to wait in a different room to someone who may make them feel threatened or intimidated.
It is encouraging to receive these updates as my partner suffers from extreme anxiety as well as depression. When he gets updates & news it improves his mental well-being knowing that his case has not been forgotten or lost in the system. It picks up his spirits and still has some hope & faith in the system. thank you for this service
a Social Services & Child Support Track Your Appeal user
When you start to design and develop a new online service, at what point do you consider accessibility issues?
Accessibility starts at the very beginning. So, for example, we look at the ability to use screen readers, access particular colours, and so on. For people who have a low reading age or limited concentration span, or are just having trouble making enough time to complete the application, a 'save and return function' is important to enable them to take a break or ask somebody else to help. And we've improved our language so that we ask straightforward questions - in plain English - which people are more likely to understand, instead of complex language and legal terminology. Each page has a feedback and help button so that you can access guidance and ask us questions.
We also launch our services early, so that we can test them again and again. There are many, many ways we can make our services more accessible and they may not all be obvious at the start. Are we going to meet every single persons' needs through an online service? Absolutely not. But are we going to provide a better service than we have currently? Certainly, yes.
You can read the latest on the reform programme in the summer 2019 issue of our Reform Update.

[English] - [Cymraeg]
Cefnogi mynediad at gyfiawnder i ddefnyddwyr sy'n agored i niwed
Cyfweliad â Sidonie Kingsmill, Cyfarwyddwr Cwsmeriaid, GLlTEM
Beth yw'r camsyniad mwyaf cyffredin ynglŷn â'r rhaglen ddiwygio a'r ffordd y bydd yn effeithio ar bobl sy'n agored i niwed neu bobl dan anfantais?
Y myth mwyaf yw ein bod yn cau ein llysoedd i gyd ac yn gorfodi pawb i wneud cais am bopeth ar-lein.  Mae hynny'n gelwydd llwyr.  Wrth gwrs, bydd gennym adeiladau llys a thribiwnlys yn y dyfodol a bydd pobl yn ymddangos gerbron y llys am amrywiaeth o achosion, yn  cynnwys rhai cymhleth a rhai difrifol.  Ond mae'r rhaglen ddiwygio yn darparu rhagor o ffyrdd i gael mynediad at gyfiawnder – fel ceisiadau ar-lein a gwrandawiadau drwy gyswllt fideo – a fydd yn ei gwneud hi'n haws i ddatrys eich problemau cyfreithiol, ac mae'n golygu y bydd ar lai o bobl angen cefnogaeth ychwanegol.
Rydym yn gwybod ei bod yn well gan lawer o bobl ddefnyddio prosesau ar-lein - maent yn haws ac yn fwy cyfleus, ac mae pobl yn hoffi cael cadarnhad ar unwaith pan fyddant wedi gwneud rhywbeth yn iawn.  Rydym hefyd yn ymwybodol bod yna lawer o bobl nad ydynt ond yn gallu defnyddio papur, neu'n mae'n well ganddynt ddechrau'r broses ar bapur – efallai mai am nad Saesneg yw eu hiaith gyntaf y mae hynny, neu am nad ydynt yn teimlo'n ddiogel ar-lein.  Rwyf eisiau bod yn hollol glir na fydd y llwybrau papur yn cael eu hesgeuluso oherwydd ein bod yn datblygu ein prosesau digidol.  Yn bwysig iawn, mae ein ffurflenni papur yn cael eu gwella ochr yn ochr â'r broses ar-lein, felly ni waeth pa lwybr y byddwch yn ei ddilyn, byddwch yn cael profiad cyffredinol gwell o'r broses llys neu dribiwnlys, a bydd ein staff yn gallu eich helpu yn yr un ffordd ag o'r blaen.
Sut ydych chi'n ystyried anghenion grwpiau bregus neu grwpiau sydd wedi eu heithrio?
Wrth gwrs, rydym yn gwneud llawer o waith i wrando ar farn ddefnyddwyr - gan siarad yn uniongyrchol â defnyddwyr y llysoedd a'r tribiwnlysoedd i ddeall eu hanghenion, ar gyfer pob gwasanaeth unigol, ynghyd â chynnal ymchwil meintiol ar raddfa fwy.  Rydym yn arsylwi profiadau defnyddwyr, yn ymgynghori â sefydliadau cynghori, ac yn archwilio data am gwynion a'r rhesymau sydd gan bobl dros ein ffonio, er mwyn llywio'r ffordd yr ydym yn dylunio ein gwasanaethau. Un o fanteision darparu gwasanaethau ar-lein yw ein bod yn gallu tracio sut mae pobl yn defnyddio ein gwasanaethau, a gwneud newidiadau yn y fan a'r lle.  Felly, hyd yn oed os nad yw'n berffaith y tro cyntaf, gallwn wneud gwelliannau'n gyflym.
Un o nodweddion y system gyfiawnder yw fod modd diffinio bron unrhyw un sy'n defnyddio ein gwasanaethau fel rhywun sy'n agored i niwed, gan ei bod yn debygol eu bod yn profi cyfnod anodd yn eu bywydau.  Fodd bynnag, mae gan lawer o'n defnyddwyr anghenion cymhleth, fel problemau iechyd, trawma, camdriniaeth, neu ddibyniaeth (ar gyffuriau, ac ati).  Mae dylunio ein gwasanaethau fel eu bod yn gynhwysol ac yn cwrdd ag anghenion pawb yn fan cychwyn, a hefyd mae'n rhaid inni roi'r amser a'r gallu i'n cydweithwyr i gefnogi defnyddwyr sydd angen cymorth.
Ym mha ffyrdd ydych chi'n cefnogi defnyddwyr sy'n agored i niwed?
Rydym yn gwella'r adnoddau a'r wybodaeth rydym yn eu darparu ar-lein, yn cynnwys ychwanegu gwasanaeth sgwrsio ar-lein (webchat), cefnogaeth trwy rannu sgrin a gwella ein llwybrau chwilio ar-lein. Rydym yn diweddaru ein ffurflenni cais papur i gynnwys dewisiadau o ran dulliau cysylltu, felly, hyd yn oed os yw'n well gennych gychwyn eich achos ar bapur, byddwch yn gallu manteisio o hyd ar gael negeseuon testun neu negeseuon e-bost i'ch diweddaru am eich achos.
Os oes arnoch eisiau siarad gydag aelod o staff, gallwn eich helpu dros y ffôn.  Mae'r holl staff yn ein canolfannau gwasanaethau llysoedd a thribiwnlysoedd (CTSCs), a agorwyd yn Stoke a Birmingham yn gynharach eleni, wedi cael eu hyfforddi i helpu pobl fregus dros y ffôn.  Os bydd arnoch angen cefnogaeth ddwysach, gallwch drefnu apwyntiad gydag un o'n sefydliadau partner a siarad gyda rhywun wyneb yn wyneb.  Rydym wedi bod yn gweithio gyda'r elusen Good Things Foundation, sy'n hyrwyddo cynhwysedd digidol, i benderfynu sut i ddarparu cymorth am ddim wyneb yn wyneb trwy rwydwaith o bartneriaid cymunedol, yn cynnwys llyfrgelloedd, swyddfeydd Cyngor ar Bopeth a chanolfannau cymunedol.  Rydym yn cynnal cynllun peilot i dreialu'r gwasanaeth hwn mewn 17 o ganolfannau ledled Cymru a Lloegr, ac rydym yn bwriadu ymestyn y cynllun i ragor o leoliadau trwy gydol y flwyddyn.
Mewn 23 o'n hadeiladau llys a thribiwnlys mwyaf ledled y wlad, mae Unedau Cefnogaeth Bersonol (PSUs) yn rhoi cefnogaeth emosiynol ac ymarferol i ddefnyddwyr, ac maent yn helpu hanner miliwn o bobl bob blwyddyn.  Rydym yn gwybod y gall nodweddion bregus gael eu hadnabod 'ar y funud olaf', gan staff GLlTEM, neu gan wirfoddolwyr neu weithwyr trydydd sector, pan fydd unigolyn yn dod i lys neu dribiwnlys i fynychu gwrandawiad.  Rydym yn gweithio'n galed i sicrhau bod nodweddion bregus yn cael eu hadnabod yn gynharach, ac at hynny rydym yn creu swyddogaethau penodol ar gyfer staff y llysoedd a'r tribiwnlysoedd i gefnogi defnyddwyr cyn iddynt fynd i mewn i'w gwrandawiad.
Rydym yn gweithio ar ddatblygu teclynnau amserlennu a rhestru mwy soffistigedig, a fydd yn ein helpu i drefnu'r nifer iawn o wrandawiadau ar yr adegau iawn, a lleihau amseroedd aros. Rydym hefyd yn gwella ein hadeiladau a'n hystafelloedd llys – drwy ddarparu seddi gwell a gofod glân a chyfforddus i bobl pan fyddant yn cyrraedd y llys, yn cynnwys cyfleusterau gwell i blant.  Rydym hefyd wedi darparu rhagor o fannau aros preifat - sy'n cadw partïon sy'n gwrthwynebu ei gilydd ar wahân, fel y gall pobl fregus aros mewn ystafell wahanol i rywun a allai wneud iddynt deimlo eu bod yn cael eu bygwth neu a fyddai'n codi ofn arnynt.
Mae'n galonogol cael y diweddariadau hyn gan fod fy mhartner yn dioddef o orbryder ac iselder. Pan fydd yn cael diweddariadau a newyddion mae ei les meddyliol yn gwella gan ei fod yn gwybod nad yw ei achos wedi cael ei anghofio neu wedi mynd ar goll yn y system.  Mae gwell hwyliau arno felly ac mae ganddo rywfaint o obaith a ffydd yn y system, diolch am y gwasanaeth hwn.
un o ddefnyddwyr y gwasanaeth.
Pan fyddwch yn dechrau dylunio a datblygu gwasanaeth ar-lein newydd, pryd fyddwch chi'n dechrau ystyried materion ynglŷn â chael mynediad at y gwasanaeth?
Mae mynediad yn ystyriaeth o'r cychwyn cyntaf.  Felly, er enghraifft, byddwn yn ystyried defnyddio rhaglenni darllen sgrin, mynediad at liwiau penodol, ac ati.  Yn achos pobl sydd ag oed darllen isel neu sy'n methu canolbwyntio am gyfnodau hir, neu sydd efallai'n cael trafferth cael digon o amser i lenwi'r ffurflen gais, mae'r gallu i 'arbed ffurflen a mynd yn ôl ati' yn bwysig i'w galluogi i gymryd seibiant neu ofyn i rywun arall am gymorth.  Ac rydym wedi gwella'r iaith yr ydym yn ei defnyddio fel ein bod yn gofyn cwestiynau clir - gan ddefnyddio iaith syml - fel bod pobl yn fwy tebygol o ddeall, yn hytrach na defnyddio iaith gymhleth a therminoleg gyfreithiol. Mae pob tudalen yn cynnwys botwm adborth a chymorth fel eich bod yn gallu cael gafael ar arweiniad a gofyn cwestiynau inni.
Rydym hefyd yn lansio ein gwasanaethau'n gynnar, fel ein bod yn gallu profi'r gwasanaeth dro ar ôl tro.  Mae yna lawer iawn o ffyrdd y gallwn wneud ein gwasanaethau yn fwy hygyrch ac efallai na fyddant yn hollol amlwg o'r cychwyn.  A fyddwn ni'n gallu bodloni anghenion pawb drwy wasanaeth ar-lein?  Dim o gwbl.  Ond a fyddwn ni'n darparu gwasanaeth gwell nag o'r blaen?  Byddwn, yn bendant.
Gellir ddarllen y newyddion diweddaraf am y rhaglen ddiwygio yn rhifyn haf 2019 ein Diweddariad ar Ddiwygio.