[English] - [Cymraeg]
While social distancing prevails, we've all had to use the space around us differently. From reorganising the existing courts and tribunals estate to creating new courtrooms in theatres, hotels and historic sites, this blog looks at how we are creating safe spaces for socially distanced hearings, including jury trials.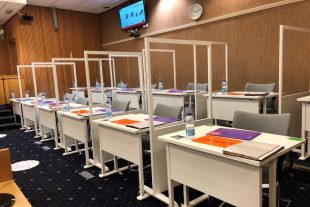 New national restrictions have now come into force in England, alongside restrictions already in place in Wales and Scotland. During this difficult time, our courts and tribunals continue to provide an essential public service. Hearings will take place safely in our courtrooms, or remotely when judges decide that it is appropriate to do so.
Back in April, our immediate response to the pandemic was to make sure our buildings were Covid-secure. However, social distancing and the resulting need for more physical space, has meant our capacity to hold hearings in person – such as jury trials – has been reduced. As a result, we've been doing everything we can to maximise the capacity within our estate - as well as creating new capacity outside our estate through 'Nightingale Courts'.
One of our challenges is that our courts and tribunal spaces don't just provide meeting rooms. They're a complex network of private and public spaces for judges, court staff, legal teams, jurors, complainants, witnesses, defendants, their families, the public and media. In the course of a hearing there will be times when all of these people must come together; and times when they will want, and have a right, to be kept apart and to privacy.
While we've faced challenges along the way – not least because no two sites are the same - we've made significant progress. Here's how…
250 courtrooms now available for jury trials

Last weekend we reached the milestone of making over 250 courtrooms available to safely hold jury trials.
Throughout the pandemic we have worked with the judiciary to make sure the most urgent and important cases could be heard. However, when the government introduced 2m social distancing rules to help prevent the spread of the pandemic, the amount of space we needed to safely hold jury trials greatly increased. Each person would need a 4 square metre space around them. Consequently, trials had to be paused while we assessed how we could provide the space required to safely hear them.
We were able to restart jury trials during May in some locations. To accommodate everyone, we had to sit jurors around the entire court room, and members of the public and the press had to sit in separate courtrooms and watch trials via video link. Sometimes, we have had to use three courtrooms for a trial, rather than one.
In June, the introduction of a new '1m+ rule' gave us the opportunity to sit jurors closer than 2m apart, if we introduced further measures. Importantly, it meant that we could safely use smaller court spaces for hearings and jury deliberations. In most cases this has reduced the need for the use of additional court rooms for a jury trial.
We consulted with public health agencies in England and Wales, and once we'd surveyed our estate, we began installing plexiglass screens as a protective measure and to increase our capacity. This has been a massive undertaking by our operations teams and colleagues working in facilities management.
No two courtrooms are the same, so every screen must be made to measure. This, together with the fact that only certain types of materials can be used for the screens, has meant that the process for installation has been complex. Additionally, some rooms cannot be opened even with screens installed. This is because the rooms themselves, the public spaces around them, or access to them, simply cannot be configured in a way that is Covid-secure.
Nevertheless, and to the huge credit of all involved, we've successfully installed 7500 individual screens – which is around 4000m2 of plexiglass – across our estate. The screens are present in around 380 courtrooms and jury deliberation rooms across England and Wales. And on 31 October, we enabled our 250th Crown Court room for jury trials.
16 Nightingale Courts providing 29 extra courtrooms

Since July, we have been working rapidly to set up courts and tribunals in buildings outside of our existing estate.
Known as 'Nightingale Courts', we have opened 16 of these temporary courts in cities across the country, ranging from Bristol to Swansea, and Peterborough to York. The 16 sites provide 29 extra court rooms, 10 of which are being used for non-custodial jury trials.
These additional courtrooms free up room in existing courts to hear other cases, often criminal cases such as jury trials that need the cells and secure dock facilities that only our existing Crown Courts can provide. Some of the Nightingale Courts are being used for civil, family or tribunal work, but each and every one of them is playing their part in increasing capacity within our traditional criminal courts, and enabling us to address the level of outstanding cases.
We launched an initial ten Nightingale Courts in the summer, in venues such as the Knight's Chamber in Peterborough, and 102 Petty France where HMCTS headquarters is based. One of those venues was a short-term measure and the site is now closed. We have since opened a further seven new Nightingale Courts in venues including the Salford Lowry Theatre Complex, with new sites opening in Liverpool and Winchester last week.
Portakabin® buildings installed at 13 different sites

We're also installing Portakabin® buildings alongside our existing sites as a way of providing extra space for jury deliberation rooms. The units are insulated, have running water, and offer facilities suitable for jury deliberating rooms.
Following the initial success of 3 installations across Yorkshire, we have introduced these buildings at further sites across the country. The work has involved everything from negotiating road closures, to ensuring cranes have access sites, and keeping an eye on the weather in case of high winds.
Thank you

I'm very grateful for the hard work, dedication, resilience and innovation shown by judicial office holders, professional and public court users over the last few months. I must also pass thanks on to our contractors and my colleagues in HMCTS working in operations and property teams. While our work to recover courts continues, and there is more still to do, we could not have achieved all that we have done so far without your support. We will continue to increase space across our estate, and raise the number of courtrooms available for jury trials, to ensure we provide a safe and effective justice system for all.

[English] - [Cymraeg]
Creu mannau diogel er mwyn cynnal gwrandawiadau Llys y Goron gyda digon o bellter rhwng pawb sy'n bresennol
Gan fod rhaid cadw pellter cymdeithasol, mae pawb ohonom wedi gorfod defnyddio'r gofod o'n cwmpas yn wahanol. O ad-drefnu ystad y llysoedd a'r tribiwnlysoedd presennol i greu ystafelloedd llys newydd mewn theatrau, gwestai a safleoedd hanesyddol, mae'r blog hwn yn edrych ar sut rydym yn creu mannau diogel ar gyfer gwrandawiadau lle mae cadw pellter cymdeithasol yn hanfodol, gan gynnwys treialon gyda rheithgor.
Mae cyfyngiadau cenedlaethol newydd bellach wedi dod i rym yn Lloegr, ochr yn ochr â chyfyngiadau sydd eisoes yn weithredol yng Nghymru a'r Alban. Yn ystod y cyfnod anodd hwn, mae ein llysoedd a'n tribiwnlysoedd yn dal i ddarparu gwasanaeth cyhoeddus hanfodol. Bydd gwrandawiadau'n cael eu cynnal yn ddiogel yn ein llysoedd, neu o bell pan fydd barnwyr yn penderfynu fod gwneud hynny yn briodol.
Yn ôl ym mis Ebrill, ein hymateb uniongyrchol i'r pandemig oedd sicrhau bod ein hadeiladau'n ddiogel mewn perthynas â Covid. Fodd bynnag, mae cadw pellter cymdeithasol a'r angen wedyn am fwy o le wedi golygu bod ein gallu i gynnal gwrandawiadau lle mae gofyn i bobl fod yn gorfforol bresennol– fel treialon gyda rheithgor – wedi'i leihau. O ganlyniad, rydym wedi bod yn gwneud popeth o fewn ein gallu i gynyddu'r capasiti o fewn ein hystad - yn ogystal â chreu capasiti newydd y tu allan i'n hystad drwy ddefnyddio 'Llysoedd Nightingale'.
Un o'r heriau yw nad ystafelloedd cyfarfod yn unig mae ein llysoedd a'n tribiwnlysoedd yn eu darparu. Maent yn rhwydwaith cymhleth o fannau preifat a chyhoeddus i farnwyr, staff y llys, timau cyfreithiol, rheithgorau, achwynwyr, tystion, diffynyddion, eu teuluoedd, y cyhoedd a'r cyfryngau. Yn ystod gwrandawiad bydd adegau pan fydd yn rhaid i'r holl bobl hyn ddod at ei gilydd; ac adegau pan fyddant eisiau cael eu cadw ar wahân mewn preifatrwydd, ac mae ganddynt berffaith hawl i wneud hynny.
Er ein bod wedi wynebu heriau ar hyd y ffordd – yn bennaf am nad oes dau safle yr un fath - rydym wedi gwneud cynnydd sylweddol. Dyma sut…
Mae 250 o ystafelloedd llys eisoes ar gael ar gyfer treialon gyda rheithgor
Y penwythnos diwethaf cyrhaeddwyd y garreg filltir o sicrhau bod dros 250 o ystafelloedd llys ar gael i gynnal treialon gyda rheithgor yn ddiogel.
Drwy gydol y pandemig rydym wedi gweithio gyda'r farnwriaeth i sicrhau y gellid gwrando'r achosion pwysicaf. Fodd bynnag, pan gyflwynodd y llywodraeth y rheol o gadw pellter o 2m i helpu i atal lledaeniad y pandemig, cynyddodd faint o le yr oedd ei angen arnom i gynnal treialon gyda rheithgor yn ddiogel. Byddai angen i bob unigolyn gael 4 metr sgwâr o'u hamgylch bob amser. O ganlyniad, bu'n rhaid gohirio treialon wrth i ni asesu sut y gellid darparu'r lle angenrheidiol i'w gwrando yn ddiogel.
Roeddem yn gallu ailgychwyn treialon gyda rheithgor yn ystod mis Mai mewn rhai lleoliadau. Er mwyn darparu ar gyfer pawb, bu'n rhaid inni roi'r rheithgor i eistedd o amgylch yr ystafell gyfan, a bu'n rhaid i aelodau o'r cyhoedd a'r wasg eistedd mewn ystafelloedd llys ar wahân a gwylio treialon drwy gyswllt fideo. Weithiau, rydym wedi gorfod defnyddio tair ystafell llys ar gyfer treial, yn hytrach nag un.
Ym mis Mehefin, cyflwynwyd 'rheol 1m+ newydd'. Rhoddodd hyn gyfle i ni osod y rheithgor i eistedd yn nes na 2m ar wahân, pe baem yn cyflwyno mesurau pellach. Yn bwysig iawn, roedd yn golygu y gellid ddefnyddio mannau llys llai yn ddiogel ar gyfer gwrandawiadau a thrafodaethau rheithgor. Yn y rhan fwyaf o achosion, mae hyn wedi lleihau'r angen i ddefnyddio ystafelloedd llys ychwanegol ar gyfer treialon gyda rheithgor.
Buom yn ymgynghori ag asiantaethau iechyd cyhoeddus yng Nghymru a Lloegr, ac ar ôl i ni arolygu ein hystad, dechreuwyd gosod sgriniau plexiglass fel mesur amddiffynnol a chynyddu ein capasiti. Ein timau gweithrediadau a'n cydweithwyr sy'n gweithio ym maes rheoli cyfleusterau sydd wedi gwneud hyn.
Nid oes dwy ystafell llys yr un fath, felly rhaid gwneud pob sgrin i ffitio'r ystafell. Mae hyn, ynghyd â'r ffaith mai dim ond mathau penodol o ddeunyddiau y gellir eu defnyddio ar gyfer y sgriniau, wedi golygu bod y broses ar gyfer eu gosod wedi bod yn gymhleth. Yn ogystal, ni ellir agor rhai ystafelloedd hyd yn oed gyda sgriniau wedi'u gosod gan nad yw cynllun yr ystafelloedd, y mannau cyhoeddus o'u hamgylch, neu'r mynediad atynt, yn ddiogel i'r diben hwn.
Serch hynny, ac er clod enfawr i bawb sy'n gysylltiedig, rydym wedi llwyddo i osod 7500 o sgriniau unigol – sef tua 4000m2 o plexiglass – drwy ein hystad. Mae'r sgriniau ar hyn o bryd mewn tua 380 o ystafelloedd llys ac ystafelloedd trafod y rheithgor ledled Cymru a Lloegr. Ac erbyn 31 Hydref roedd 250 ystafell Llys y Goron ar gyfer cynnal treialon gyda rheithgor wedi agor.
16 o Lysoedd Nightingale yn darparu 29 o ystafelloedd llys ychwanegol
Ers mis Gorffennaf, rydym wedi bod yn gweithio'n gyflym i sefydlu llysoedd a thribiwnlysoedd mewn adeiladau y tu allan i'n hystad bresennol.
Gelwir hwy yn 'Llysoedd Nightingale'. Rydym wedi agor 16 o'r llysoedd dros dro hyn mewn dinasoedd ledled y wlad, yn amrywio o Fryste i Abertawe, a Peterborough i Gaer Efrog. Mae'r 16 safle'n darparu 29 o ystafelloedd llys ychwanegol, ac mae 10 ohonynt yn cael eu defnyddio ar gyfer treialon gyda rheithgor lle na ellir rhoi dedfryd o garchar.
Mae'r ystafelloedd llys ychwanegol hyn yn rhyddhau ystafell mewn llysoedd presennol i wrando achosion eraill. Yn aml iawn, mae achosion troseddol fel treialon gyda rheithgor angen y celloedd a'r dociau diogel a ellir eu darparu ond yn Llys y Goron. Mae rhai o'r Llysoedd Nightingale yn cael eu defnyddio ar gyfer gwaith sifil, gwaith teulu neu waith tribiwnlys, ond mae pob un ohonynt yn chwarae eu rhan i gynyddu capasiti yn ein llysoedd troseddol traddodiadol ac yn ein galluogi i fynd i'r afael â lefel yr achosion sy'n weddill.
Lansiwyd deg Llys Nightingale cychwynnol gennym yn yr haf, mewn lleoliadau fel Knight's Chamber yn Peterborough, a 102 Petty France lle mae pencadlys GLlTEM wedi'i leoli. Mesur tymor byr oedd un o'r lleoliadau hynny ac mae'r safle bellach ar gau. Ers hynny rydym wedi agor saith Llys Nightingale newydd arall mewn lleoliadau gan gynnwys y Lowry Theatre Complex yn Salford, gyda safleoedd newydd eraill wedi agor yn Lerpwl a Winchester yr wythnos diwethaf.
Gosodwyd 13 o Portakabins® mewn 13 o wahanol fannau
Rydym hefyd yn gosod adeiladau Portakabin ochr yn ochr â'n safleoedd presennol fel ffordd o ddarparu lle ychwanegol ar gyfer ystafelloedd trafod y rheithgor. Mae'r unedau wedi'u hinswleiddio, mae ganddynt ddŵr ffres, ac maent yn cynnig cyfleusterau sy'n addas ar gyfer ystafelloedd trafod y rheithgor.
Yn dilyn llwyddiant cychwynnol mewn tri safle yn Swydd Efrog, rydym wedi cyflwyno'r adeiladau hyn ar safleoedd pellach ledled y wlad. Mae'r gwaith wedi cynnwys popeth o negodi cau ffyrdd, sicrhau bod gan graeniau fynediad at safleoedd, a chadw llygad ar y tywydd rhag ofn y bydd gwyntoedd cryfion.
Diolch
Rwyf yn ddiolchgar iawn am y gwaith caled, yr ymroddiad, y gwydnwch a'r dyfeisgarwch a ddangoswyd gan ddeiliaid swyddi barnwrol, defnyddwyr proffesiynol a defnyddwyr cyhoeddus y llysoedd dros y misoedd diwethaf. Rhaid imi hefyd ddiolch i'n contractwyr a'm cydweithwyr yn GLlTEM sy'n gweithio yn y timau gweithrediadau ac eiddo. Er bod ein gwaith i adfer y llysoedd yn parhau, a bod mwy i'w wneud o hyd, ni allem fod wedi cyflawni popeth yr ydym wedi'i wneud hyd yn hyn heb eich cefnogaeth chi. Byddwn yn dal i gynyddu lle ar draws ein hystad, ac yn cynyddu nifer yr ystafelloedd llys sydd ar gael ar gyfer cynnal treialon gyda rheithgor, er mwyn sicrhau ein bod yn darparu system gyfiawnder ddiogel ac effeithiol i bawb.