[English] - [Cymraeg]
What's the most common misconception about the impact of the reform programme on the court and tribunal estate?
That there will be lots more closures and that we're driven by cost savings without considering the impact on court and tribunal users. It's simply not true, nor has it ever been. Reform is about improving the way people and organisations access the courts and tribunals system, increasing access to justice via a range of channels (such as digital or video as well as face-to-face) and making the process clearer and easier once you enter it.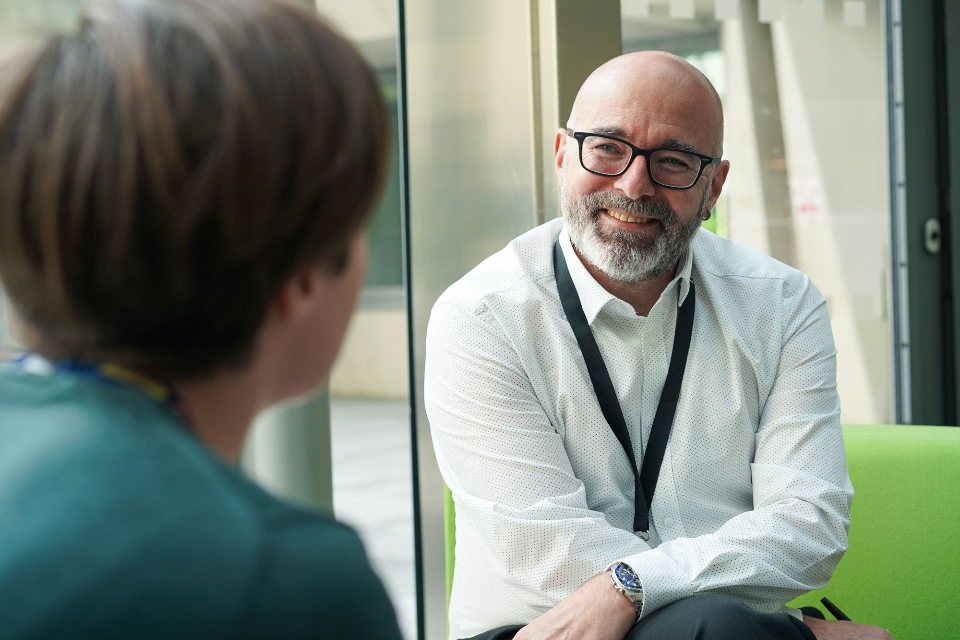 Closing courts is never easy. But all court closures to date have happened because of issues unrelated to the reform programme - because they have been either underused or are inappropriate for use. We have also moved a court's location where we have been able to transfer work to another building in the same town or city.
Where we have proposed a court is closed, we have always paid very careful attention to its impact on users. For example, we've looked very carefully at travel times that people will have to get to their nearest court, transport links and relative proximity of other courts. We will always consult when we are moving work away from the local area.
How do you select which courts and tribunals should be closed?
Last month we published our response to the 'Fit for the future' consultation document outlining our future approach to reforming the physical estate in the context of the reform programme. As the new ways of delivering justice are introduced, we do expect that the need for physical court rooms will reduce further. But we will only seek to close a court once we have clear and tangible evidence that reforms have had the impact we anticipate. Decisions will follow the evidence, not the other way around.
We have also strengthened the access to justice principles upon which future proposals will be made. For example, we have set out more specific criteria on which we judge reasonable journey times, where travel to a court is necessary. We believe that in all but a handful of cases those travelling to court by public transport should not have to leave home any earlier than 7.30am and should be able to return by 7.30pm at the latest.
Is the money raised from selling court buildings re-invested in other parts of the estate?
All receipts from selling court buildings goes into supporting the reform programme. Since the start of reform, we've raised £125 million from the sale of surplus buildings and all of this has been invested into modernising the justice system.
Since 2015, we've also invested £149 million in the HMCTS estate. That's capital spend – replacing roofs, boilers, windows – big, significant changes to improve buildings. Last year we spent around £35 million on facilities management projects – fixing lights, doors, repairing windows, carpets and so on. We received an extra £15 million in last year's budget which we've spent on more than 450 improvement projects in over 200 courts.
Our estate continues to pose many challenges, not least as a result of its age and condition. We know that there are many outstanding issues that need addressing. But we are investing in it all the time to improve the physical environment for all court users.
Have you opened any new court buildings?
Yes – I can give you some recent examples. In April, a former magistrates' court was transformed into a justice centre in Shrewsbury as we moved crown court work out of an unsatisfactory building into a refurbished magistrates court. The same month we opened a new tribunal centre in Glasgow in April, jointly with the Scottish Courts and Tribunals Service.
We're currently working on the development of a new court in the City of London which will be a flagship dealing fraud and related economic crime, along with commercial work and have been working with Newcastle Council to develop a new justice centre for the city.
Is the current court estate fit for purpose and effectively utilised?
It's fit for purpose in the sense that we have a wide range of buildings – from the very modern to listed, historic buildings – all delivering justice, day in, day out. And we do a lot to make all those buildings work as well as possible.
Are they effectively used? Not always. In 2016, four out of ten buildings were used less than half their available time. That shows we need to make better use of our court and hearing rooms. So, for example, we are combining buildings in towns or cities where there's more than one court building, or moving their work elsewhere. The reform programme gives us greater flexibility to do that, with improved digital services and increased use of Courts and Tribunal Service Centres. It's allowing us to make sure that the estate is the right size for the expected workload, delivering value for money for the taxpayer and making sure we are not paying for under-used court rooms unnecessarily.
Do people now spend longer and pay more to travel to courts? Does that disproportionately affect people who may already be experiencing financial hardship?
Our analysis shows that the change is very small when we compare travel times for the court estate in 2010 with now. In 2010, 96.7% of the population of England and Wales could leave home after 7.30am and get to a magistrates' court by 9.30am using public transport. Today that figure is 95.1%. We accept that for a small proportion of the population, travel times have increased because of some of the closures. But for most people, travel times will not have changed significantly.
We want to make sure that our buildings provide the best possible service to all those who use them, particularly vulnerable people, and we have published the Court and Tribunal Design Guide which sets out our standards when we refurbish or provide new court and tribunal buildings.
In some jurisdictions, those experiencing hardship (for example those attending social security tribunal hearings) can have costs of travel paid. Anyone who thinks that they may have difficulty attending court should contact their local court as soon as possible for advice.
You can read the latest on the reform programme in the summer 2019 issue of our Reform Update.

[English] - [Cymraeg]
Adeiladau gwell a nifer llai ohonynt - cyfweliad ag Andy Cox, Pennaeth Polisi Ystadau, GLlTEM
Beth yw'r camsyniad mwyaf cyffredin am effaith y rhaglen ddiwygio ar ystâd y llysoedd a'r tribiwnlysoedd?
Y syniad y bydd llawer mwy o adeiladau yn cau ac ein bod yn gweithredu yn seiliedig ar arbed arian, heb ystyried yr effaith ar ddefnyddwyr y llysoedd a'r tribiwnlysoedd. Nid yw hyn yn wir o gwbl. Mae diwygio yn ymwneud â gwella'r ffordd y mae pobl a sefydliadau yn cael mynediad at system y llysoedd a'r tribiwnlysoedd, gan wella mynediad at gyfiawnder trwy amrywiaeth o wahanol lwybrau (fel platfformau digidol, mynediad drwy fideo ynghyd â gwasanaeth wyneb yn wyneb) a gwneud y broses yn gliriach ac yn haws pan fyddwch yn dechrau'r broses.
Nid yw cau llysoedd yn benderfyniad hawdd, ond mae'r holl lysoedd sydd wedi cau hyd yma wedi cau oherwydd rhesymau nad oedd yn gysylltiedig â'r rhaglen ddiwygio – un ai oherwydd nad oeddynt yn cael eu defnyddio digon neu nad oeddent yn addas i'w defnyddio. Rydym hefyd wedi symud o un llys i lys arall er mwyn trosglwyddo gwaith i adeilad arall yn yr un dref neu ddinas.
Pan rydym wedi cynnig cau llys, rydym wastad wedi ystyried yn ofalus yr effaith ar ddefnyddwyr. Er enghraifft, rydym wedi edrych yn ofalus ar yr amseroedd bydd rhaid i bobl deithio i allu ymweld â'r llys agosaf, cysylltiadau trafnidiaeth a pha mor bell i ffwrdd y mae llysoedd eraill. Byddwn wastad yn cynnal ymgynghoriad pan fyddwn yn symud gwaith i ffwrdd o'r ardal leol.
Sut yr ydych yn dewis pa lysoedd a thribiwnlysoedd y dylid eu cau?
Mis diwethaf bu inni gyhoeddi ein hymateb i'r ddogfen ymgynghori Parod at y dyfodol' yn amlinellu ein dull ar gyfer y dyfodol i ddiwygio ystâd y llysoedd yng nghyd-destun y rhaglen ddiwygio. Wrth i ffyrdd newydd o weinyddu cyfiawnder gael eu cyflwyno, rydym yn rhagweld y bydd yna lai o alw am ystafelloedd llys traddodiadol. Fodd bynnag, byddwn ond yn mynd ati i gau llys unwaith mae gennym dystiolaeth glir a phendant bod y broses ddiwygio wedi cael yr effaith rydym yn ei ragweld. Bydd penderfyniadau yn dilyn tystiolaeth, nid fel arall.
Rydym hefyd wedi cryfhau ein hegwyddorion mynediad at gyfiawnder, a fydd yn sail i'n cynigion yn y dyfodol. Er enghraifft, rydym wedi pennu meini prawf mwy penodol ar gyfer yr hyn yr ydym yn ystyried yn amseroedd teithio rhesymol, lle bo angen teithio i'r llys. Credwn yn bron bob achos, ni ddylai rywun sy'n teithio ar drafnidiaeth gyhoeddus adael eu cartref cyn 7.30am a dylai fod yn bosib iddynt gyrraedd adref erbyn 7.30pm fan bellaf.
A yw'r arian a enillir trwy werthu adeiladau llys yn cael ei ail-fuddsoddi mewn rhannau eraill o'r ystad?
Mae'r holl arian a enillir trwy werthu adeiladau llys yn cael ei ddefnyddio i gefnogi'r rhaglen ddiwygio. Ers dechrau'r broses ddiwygio, rydym wedi codi £125 miliwn trwy werthu adeiladau nad ydym eu hangen, ac mae'r holl arian wedi'i fuddsoddi i foderneiddio'r system gyfiawnder.
Ers 2015, rydym hefyd wedi buddsoddi £149 miliwn yn ystad GLlTEM. Gwariant cyfalaf yw hyn – gosod toeau, boeleri a ffenestri newydd – newidiadau mawr, sylweddol i wella adeiladau. Y llynedd, mi wnaethom wario oddeutu £35 miliwn ar brosiectau rheoli cyfleusterau – yn atgyweirio goleuadau, drysau, ffenestri, carpedi ac ati. Cawsom £15 miliwn ychwanegol yng nghyllideb y llynedd, a gafodd ei wario ar dros 450 o brosiectau gwella mewn dros 200 o lysoedd.
Mae ein hystâd yn parhau i gyflwyno nifer o heriau, yn rhannol oherwydd oed a chyflwr yr ystad. Gwyddwn fod llawer o faterion sydd heb eu datrys angen sylw. Rydym yn buddsoddi yn yr ystad drwy'r amser i wella'r amgylchedd ffisegol ar gyfer yr holl ddefnyddwyr llys.
A ydych wedi agor unrhyw adeiladau llys newydd?
Do - mae sawl enghraifft ddiweddar o hyn. Ym mis Ebrill, cafodd hen lys ynadon ei drawsnewid yn ganolfan gyfiawnder yn Amwythig, wrth inni symud gwaith llys y goron o adeilad anfoddhaol i lys ynadon wedi'i ailwampio. Yn yr un mis, bu inni agor canolfan dribiwnlys newydd yn Glasgow ym mis Ebrill, ar y cyd â Gwasanaeth Llysoedd a Thribiwnlysoedd Yr Alban.
Ar hyn o bryd, rydym yn gweithio ar ddatblygu llys newydd yn Ninas Llundain, a fydd yn lleoliad blaenllaw ar gyfer delio â throseddau twyll a throseddau economaidd cysylltiedig, ynghyd â gwaith masnachol, ac rydym wedi bod yn gweithio gyda Chyngor Newcastle i ddatblygu canolfan gyfiawnder newydd ar gyfer y ddinas.
A yw'r ystad presennol yn addas i'r pwrpas ac yn cael ei ddefnyddio'n effeithiol?
Mae'n addas i'r pwrpas yn yr ystyr bod gennym amrywiaeth eang o adeiladau – o adeiladau modern iawn i adeiladau rhestredig, hanesyddol – gyda phob un yn gweinyddu cyfiawnder bob dydd, ac rydym yn gwneud llawer i sicrhau bod yr adeiladau hynny'n cael eu cynnal cystal ag sy'n bosibl.
A ydynt yn cael eu defnyddio'n effeithiol? Nid bob tro. Yn 2016, roedd pedwar o bob deg adeilad yn cael eu defnyddio am llai na hanner yr amser oedd ar gael. Mae hyn yn dangos bod rhaid i ni wneud defnydd gwell o'n hadeiladau a'r ystafelloedd oddi fewn yr adeiladau hynny. Felly, er enghraifft, rydym yn cyfuno adeiladau mewn trefi a dinasoedd lle mae mwy nac un adeilad llys, neu'n symud eu gwaith i leoliad arall. Mae'r rhaglen ddiwygio yn rhoi mwy o hyblygrwydd inni wneud hynny, gyda gwasanaethau digidol gwell a chynnydd yn y defnydd o Ganolfannau Gwasanaethau'r Llysoedd a'r Tribiwnlysoedd. Mae'n ein galluogi i sicrhau bod maint yr ystad yn addas i'r llwyth gwaith a ddisgwylir, gan ddarparu gwerth am arian i drethdalwyr a sicrhau nad ydym yn talu'n ddiangen am ystafelloedd llys sy'n cael eu tanddefnyddio.
A yw pobl yn dueddol o dreulio rhagor o amser yn teithio i'r llysoedd yn awr? A yw hynny'n cael effaith anghymesur ar bobl a all eisoes fod yn profi caledi ariannol?
Mae ein dadansoddiad yn dangos bod y newid yn fach iawn pan rydym yn cymharu amseroedd teithio i'r llys yn 2010 gyda'r amseroedd nawr. Yn 2010, roedd 96.7% o boblogaeth Cymru a Lloegr yn gallu gadael y tŷ ar ôl 7:30am a chyrraedd llys ynadon erbyn 9:30am yn defnyddio trafnidiaeth gyhoeddus. Heddiw, y gyfradd yw 95.1%. Rydym yn cydnabod bydd amseroedd teithio wedi cynyddu ar gyfer canran fechan o'r boblogaeth, mae'r amseroedd teithio wedi cynyddu oherwydd bod rhai o'r llysoedd wedi cau. Fodd bynnag, ar gyfer y mwyafrif o bobl, ni fydd amseroedd teithio wedi newid yn sylweddol.
Rydym eisiau sicrhau bod ein hadeiladau yn darparu'r gwasanaeth gorau bosib ar gyfer pawb sy'n eu defnyddio, yn enwedig pobl sy'n agored i niwed, ac rydym wedi cyhoeddi Canllaw Dylunio'r Llysoedd a'r Tribiwnlysoedd, sy'n pennu ein safonau ar gyfer pan fyddwn yn ailwampio adeiladau llys ac adeiladau tribiwnlys, neu'n darparu adeiladau newydd.
Mewn rhai awdurdodaethau, gall y rhai hynny sy'n profi caledi ariannol (er enghraifft, y rhai hynny sy'n mynychu gwrandawiadau tribiwnlys nawdd cymdeithasol) gael cymorth i dalu eu costau teithio. Dylai unrhyw un sy'n credu y cânt drafferth mynychu'r llys, gysylltu â'r llys lleol ar unwaith i gael cyngor.
Gallwch ddarllen y newyddion diweddaraf am y rhaglen ddiwygio yn rhifyn yr haf ein Diweddariad ar Ddiwygio.