[English] - [Cymraeg]
I'm Fiona Rutherford and I lead HM Courts & Tribunals Service's Business Strategy and Design Team. To put it simply, my team and I are responsible for helping to shape how our justice system will look and operate in the future.
We are investing more than £1 billion to build a modern system that works for everyone – from victims, witnesses and applicants to hard-working judges, legal professionals and HMCTS staff. This wholesale transformation programme is about more than upgrading our technology and our buildings – we're revisiting our fundamental assumptions about how justice can best be served to the people that need it, in a modern era.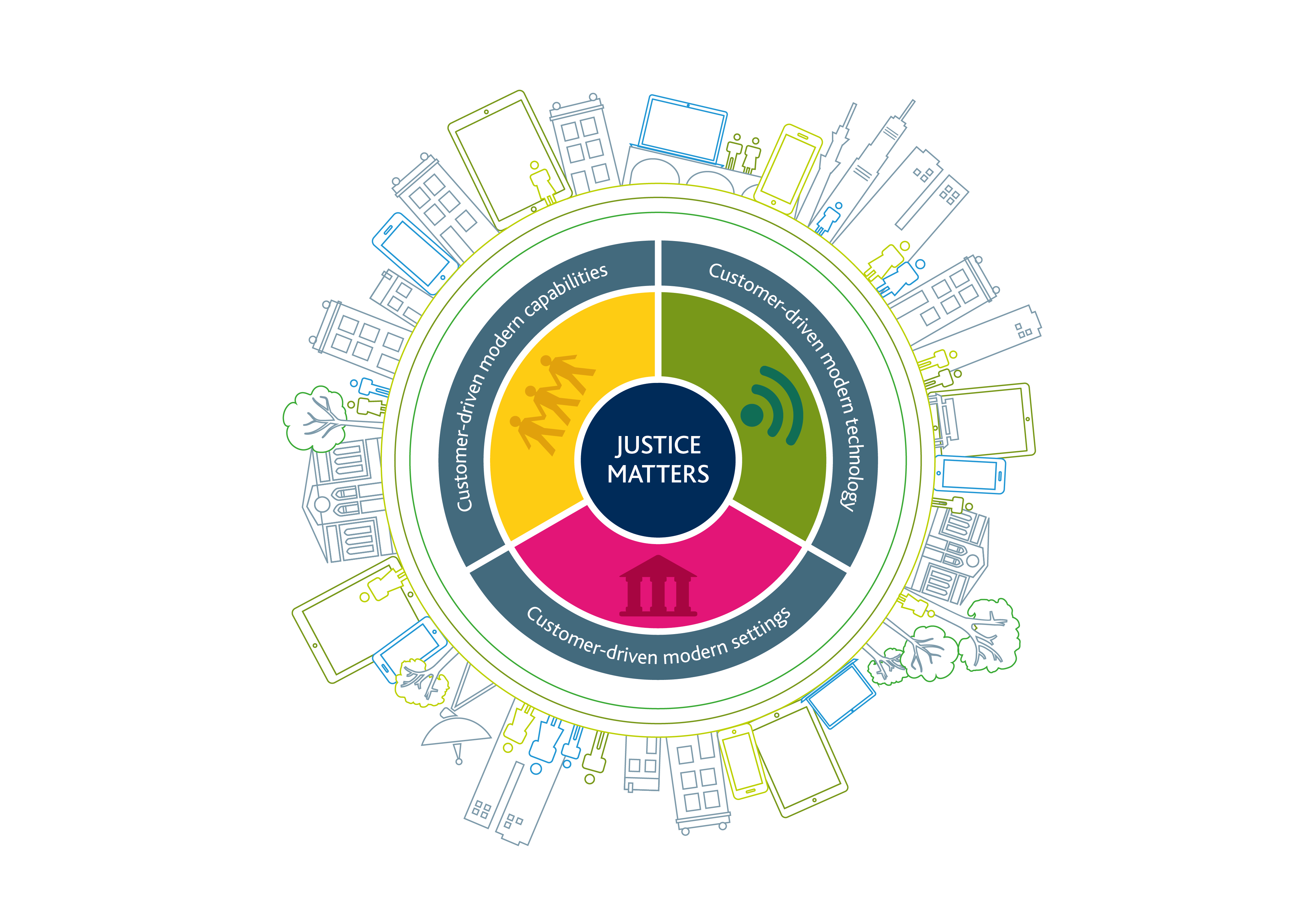 So what does this mean
In future, more cases will be progressed and resolved entirely online, without the need for a hearing. For example, it will allow those charged with some of the most straightforward, non-imprisonable offences (such as failure to produce a rail ticket) to visit GOV.UK, have all the options clearly explained to them, accept a conviction and pay a set penalty instantly online without waiting for a magistrate to process their case.
Similarly, a new online court which will enable businesses and ordinary working people to resolve civil claims of up to £25,000 simply and easily online, giving them an estimated 100,000 working days back each year to get on with their busy lives.
We recognise that hearings will still be required in many cases to deliver justice. But it's not always necessary or proportionate to ask parties to travel to court and wait around for this hearing. In future, more hearings, such as bail and remand hearings, will be conducted away from the traditional court room, via telephone or video-link, reducing delays and unnecessary travel to court for all involved.
We appreciate the importance of working with our justice partners and stakeholders to achieve these changes. The Design Team includes a national stakeholder team who are embedding core principles around co-production and co-delivery of modern business and operating models.
Physical courts rooms
It's absolutely right that we retain the full majesty of the physical court room for the most complex and serious cases, such as criminal trials and sentencing. Where appropriate, we will make greater use of video-link technology to spare victims and witnesses the distress and expense of attending a trial, and reducing journeys between prisons and court. We're investing in our estate and our facilities to make the most of the opportunities new technology presents for improving peoples' courtroom experience.
I'm really excited about these bold and ambitious proposals, which are underpinned by the Prisons and Courts Bill and will make our courts swifter, more accessible and easier for everyone to use.
We're transforming the way we deliver justice because justice matters.
Please use the comments section at the bottom of the page to leave me your views. You can also ensure you keep informed of our progress by subscribing to our email alerts service.

[English] - [Cymraeg]
GLlTEM yn gwella'r system cyfiawnder
Fiona Rutherford ydw i ac rwy'n arwain Tîm Strategaeth Fusnes a Dylunio Gwasanaeth Llysoedd a Thribiwnlysoedd EM. I'w roi yn syml, yr wyf i a fy nhîm yn gyfrifol am helpu i lywio sut fydd ein system cyfiawnder yn edrych ac yn gweithredu yn y dyfodol.
Rydym yn buddsoddi mwy na £1 biliwn er mwyn datblygu system fodern sy'n gweithio i bawb – o ddioddefwyr, tystion a cheiswyr i farnwyr, gweithwyr cyfreithiol proffesiynol a staff GLlTEM sy'n gweithio'n eithriadol o galed. Mae'r rhaglen drawsnewid eang hon yn fwy na dim ond diweddaru ein systemau technoleg a'n hadeiladau - rydym yn ailedrych ar ein rhagdybiaethau sylfaenol o ran sut y gallwn ddarparu'r system cyfiawnder orau i'r bobl sydd ei hangen, mewn oes fodern.
Felly beth mae hyn yn ei olygu
Yn y dyfodol, bydd mwy o achosion yn cael eu prosesu a'u datrys ar-lein, heb yr angen am wrandawiad. Er enghraifft, bydd y rhai hynny sydd wedi cael eu cyhuddo o gyflawni troseddau syml, na ellir rhoi dedfryd o garchar amdanynt (megis methu â chyflwyno tocyn trên) yn gallu mynd i GOV.UK lle bydd yr opsiynau yn cael eu hegluro'n glir iddynt, byddant yn gallu derbyn euogfarn a thalu cosb benodol yn syth ar-lein heb orfod aros i ynad brosesu eu hachos.
Yn debyg, bydd llys ar-lein newydd yn galluogi busnesau ac unigolion sy'n gweithio ddatrys hawliadau sifil o hyd at £25,000 yn syml ac yn hawdd ar-lein, gan roi oddeutu 100,000 o ddyddiau gwaith yn ôl iddynt bob blwyddyn er mwyn iddynt allu parhau a'u bywydau prysur.
Rydym yn cydnabod y bydd dal angen cynnal gwrandawiadau gyda llawer o achosion er mwyn sicrhau cyfiawnder. Ond nid yw bob amser yn angenrheidiol neu'n gymesur i ofyn i bartïon deithio i'r llys ac aros o gwmpas am y gwrandawiad. Yn y dyfodol bydd mwy o wrandawiadau, megis gwrandawiadau mechnïaeth a remand, yn cael eu cynnal i ffwrdd o ystafell llys draddodiadol, dros y ffôn neu gyswllt fideo, gan leihau oedi a theithiau diangen i'r llys i bawb.
Rydym yn cydnabod pwysigrwydd gweithio gyda'n partneriaid a'n rhanddeiliaid cyfiawnder er mwyn cyflawni'r newidiadau hyn. Mae'r Tîm Dylunio yn cynnwys tîm rhanddeiliaid cenedlaethol sy'n mewnosod egwyddorion craidd sy'n ymwneud â chyd-gynhyrchu a chyd-ddarparu busnes a modelau gweithredu modern.
Ystafelloedd llys traddodiadol
Mae'n hollol iawn ein bod ni'n cadw'r ystafell llys draddodiadol ar gyfer yr achosion mwyaf cymhleth a difrifol, megis treialon troseddol a gwrandawiadau dedfrydu. Lle bo hynny'n briodol, byddwn yn gwneud mwy o ddefnydd o dechnoleg cyswllt fideo er mwyn arbed dioddefwyr a thystion y boen a'r gost o orfod mynychu treial, a lleihau amseroedd teithio rhwng carchardai a'r llys. Rydym yn buddsoddi yn ein hystâd a'n cyfleusterau er mwyn gwneud y mwyaf o'r cyfleoedd sy'n dod law yn llaw â thechnoleg newydd ar gyfer gwella profiad unigolion yn yr ystafell llys.
Mae'r Bil Carchardai a Llysoedd wrth wraidd y newidiadau hyn ac rwy'n edrych ymlaen at weld y cynigion beiddgar ac uchelgeisiol hyn yn cael eu datblygu, oherwydd byddant yn gwneud ein llysoedd yn gyflymach, yn fwy hygyrch ac yn haws i bawb eu defnyddio.
Rydym yn trawsnewid y ffordd yr ydym yn darparu cyfiawnder oherwydd mae cyfiawnder yn bwysig.
Defnyddiwch yr adran sylwadau sydd ar waelod y dudalen er mwyn i mi gael eich barn. Gallwch hefyd sicrhau eich bod yn cael gwybod am unrhyw ddatblygiadau drwy danysgrifio i'n gwasanaeth negeseuon e-bost.