I'd like to start by paying tribute to the dedication and hard work of our staff, the judiciary, professional court users including legal professionals, the advice sector, contractors, and everyone who is supporting the work of our courts and tribunals during the pandemic – your efforts are not unnoticed and I appreciate all that you are doing to keep the justice system functioning during the pandemic.
Meeting the challenge
There is no disputing the challenges that the country is facing, and I am not here to convince you otherwise. As those responsible for ensuring our justice system continues, we have the added responsibility to some of the most vulnerable people in our society. They must have the confidence that justice continues to be served – whether remotely or, if necessary, in person at a court or tribunal.
Whatever your role in the smooth-running of the justice system, it's incumbent on us to work together in the safest way possible to keep justice going for every complainant, victim, witness and defendant. Justice cannot stop.
Providing a safe place to work
I know we are all concerned about the current coronavirus situation – and that is why I take the safety of our courts very seriously. We follow all Public Health and Government COVID-secure guidelines and have put measures in place to keep all court and tribunal users safe. This is under constant review through our risk assessment process – when Government/Public Health guidance changes our measures are updated; an approach which is endorsed by Public Health England and Public Health Wales. HMCTS staff and others inspect our policies and their implementation to ensure actions arising from these risk assessments are put in place and being followed.
We've introduced social distancing measures in all our buildings, regular cleaning and, where appropriate, plexiglass screens to name just a few mitigations. We're supporting the Lord Chief Justice's message about remote hearings.
Where a judge or magistrate has deemed it necessary and in the interests of justice, you should come to court if you are required to do so. If you need support, please just bring one person with you – such as a friend or family member. From the moment that you arrive, our buildings are safe for those that need to use them. You're asked to always rigorously follow hands-face-space guidance – all our buildings display clear signage that support this requirement. Everyone has a personal responsibility to follow the guidance in our buildings, just as they do everywhere else in the community.
Staying vigilant
We are very far from complacent - we listen to suggestions for improvements, and routinely review standards and implementation, but we only implement additional measures where they are supported by public health officials and other experts and will make a difference to the safety of our buildings. This has included updating our advice on close contact in line with the change to the NHS Test and Trace definition. You can request the risk assessment from your local court or tribunal and we've published an escalation route for professional court users if you have any concerns – we want to hear from you.
Sharing information
Where we are notified of positive (or suspected) cases in any of our buildings – whether that be a member of our staff or other court users – we initiate our own contact-tracing alongside the NHS test and trace service. Where there are two or more cases, we conduct an investigation. In line with what is required of us, we alert local authority public health teams whenever the threshold for reporting is reached and act on their advice. This means that our policies, and how they are implemented at an operational level, are repeatedly reviewed by multiple experts who are independent of HMCTS.
We also update local stakeholders and court users of the situation, while maintaining the confidentiality of those directly affected. Updates may contain a combination of the following pieces of information, depending upon the circumstances of each incident:
Date we were informed of suspected incidents and/or positive cases.
Date those involved were last in the building (only if it is not shared in a way/with other information which could lead to identification).
Areas of the building in which the individuals concerned have worked for a sustained period of time and/or where they are likely to have come into contact with the public (only if it is not shared in a way/with other information which could lead to identification).
Action taken, for example if a section 16 clean was completed, or if part or all the building will be closed temporarily.
'Hands, face, space' is for everyone
But these measures cannot work without everybody's commitment to rigorously observing the hands, face, space guidance – and I need your help and vigilance to achieve this. Our sites are not close contact settings – but only if people follow the procedures in place and maintain a distance from each other.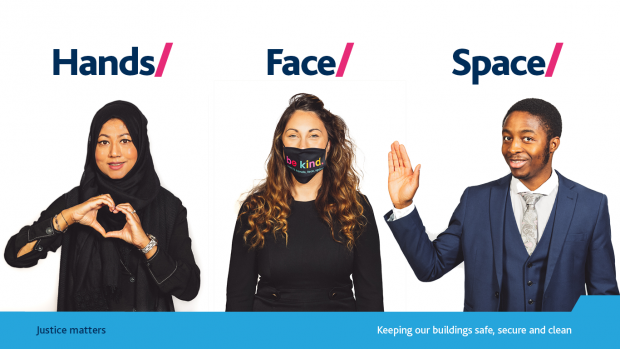 There has been no evidence that our sites are unsafe – independent Public Health advice indicates that community transmission is the most likely source of the vast majority of cases where court and tribunal users have tested positive. Where Public Health England/Public Health Wales identified a small handful of possible in-court transmission it found that these were likely to be a result of individuals – not all of them court staff – breaching hands-space-face guidance.
But I also recognise that the levels of concern have gone up and we continue to review all our measures to reassure all court and tribunal users that that our buildings are safe. Since the new strain of the virus and the increased transmissibility, we are supporting the Senior Presiding Judge's guidance to the judiciary in support of the Lord Chief Justice's message which included encouraging use of face coverings in court rooms. This will work alongside our other measures such as social distancing, ventilation, regular hand washing etc. We are also reducing numbers in courts and tribunals by encouraging more remote hearings and fewer on-site users.
We know that justice cannot stop. We also know what we can do to make our courts and tribunals COVID-secure. In both cases this needs to be a joint effort – we must work together.
I and HMCTS have a role to ensure safety measures are in place. We all have a role to follow the guidance.